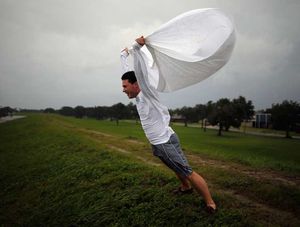 A 1934 record from Mount Washington still stands as all time top gust measured in the U.S.
Hurricane Isaac may be nature's candidate for top wind in America right now, but Isaac's gusts don't touch U.S. record wind speeds. Mt. Washington in New Hampshire currently holds that record with a gust of 231 mph.
Blustery Mt. Washington held the world record fastest wind title from 1934 to 1996. Then, a 253 mph (408 km/h) blast from Cyclone Olivia on Barrow Island off the northwest coast of Australia blew away the American record.
Mt. Washington still holds on to its spot for hosting America's strongest wind, but doesn't seem to be working hard at snatching back the world record.
"The event on April 12, 1934 was exceptional," said Mike Carmon, meteorologist at Mount Washington Observatory. "In fact, since that storm, wind speeds have never topped 200 mph (322 km/h) on Mt. Washington... The annual average wind speed for Mt. Washington is 35 mph (56 km/h), which is an impressive figure."
Currently, the mountain lags behind the hurricane in the race for strongest wind of the day.
"Isaac currently has maximum sustained winds of 75 mph (120 km/h) at its center, with gusts probably approaching 90 mph (145 km/h)," Carmon told Discovery News on August 28. "As for Mt. Washington today, winds have been averaging around 50 mph(408 km/h) all day, with our peak gust so far today at 71 mph (114 km/h). These conditions are probably comparable to the outer fringes of Isaac, but wind-wise, Isaac does have us beat at its core."
Winds in a hurricane commonly exceed 100 mph, according to Joshua Wurman of the
Center for Severe Weather Research
.
Wurman noted that on May 3, 1999 near Bridge Creek, Okla. the winds of a tornado were recorded at 301 miles (80 km/h) per hour using a mobile radar system called the Doppler on Wheels.
The upstart Oklahoma twister didn't take the honor as America's fastest wind because Doppler radar records aren't considered official by the
World Meteorological Organization
. Doppler radar observations are out of the running because they are not directly measured. The Doppler system's software calculates wind speed, as opposed to measuring it directly like an anemometer, a device with cups that are caught and spun by the wind.
Mt. Washington has bragging rights beyond being measured mechanically. During the 1934 gust, human observers were on the mountaintop, according to Carmon, unlike the Aussie wind that was recorded by an automated weather station on a Chevron oil platform.
Conditions for those intrepid observers couldn't have been pleasant.
"Three hundred mph would instantly knock you flat," said Wurman. "People can't really stand in much more than about 70 mph. People think they've been in 100 or even 150 mph gusts, but I ask 'show me the skull fracture.' The force of even a 150 mph wind is extremely high, four times that of 75 mph, and 300 mph is four times more again, so 16 times more than 70 mph."
Even the knock-out gusts in New Hampshire's mountains might not be the true top winds in America. Carmon believes peaks in the Rocky Mountains or isolated regions of Alaska might be be buffeted by even stronger winds. But being inaccessible for consistent human measurement keeps these spots out of the race.