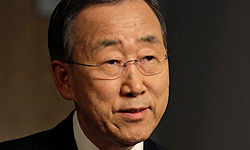 UN Secretary-General Ban Ki-moon will visit Iran's Natanz uranium enrichment facility on the sidelines of his presence at a summit meeting of the Non-Aligned Movement (NAM) in Tehran, sources said on Monday.
Iranian Deputy Foreign Minister for International Affairs Mehdi Akhoundzadeh told FNA that "the UN secretary-general will visit Isfahan province during his stay in Iran", while other sources said his presence in Isfahan will be aimed at a visit to the Natanz facility.
Ban is due to arrive in Iran later this week to attend the 16th NAM Summit in Tehran on Thursday and Friday.
Deputy foreign ministers and experts from the NAM member states started a meeting here in the Iranian capital on Sunday. The two-day experts meeting which ends this evening and will be followed by the NAM's foreign ministerial meeting on August 28 and 29 is drawing up the agenda for the 16th heads-of-state summit meeting of the bloc to be held in Tehran on Thursday and Friday.
Iran assumed the rotating presidency of the movement from Egypt for three years during the Sunday meeting.