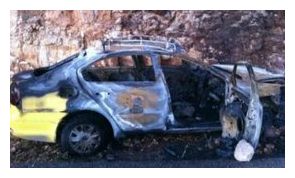 A recent US State Department terrorism
report listed
violence by Jewish settlers on Palestinians in the West Bank as "terrorist incidents," for the first time, following a recent upsurge in such attacks.
"Attacks by extremist Israeli settlers against Palestinian residents, property and places of worship in the West Bank continued," said the
Country Reports on Terrorism 2011
.
According to the UN, violent attacks by settlers on Palestinians and their property, mosques and farmland has increased by almost 150% since 2009.
On Friday, the US state department
condemned
"in the strongest possible terms" the firebombing of a Palestinian taxi near Bethlehem that injured six people.
Israeli officials have also begun increasingly condemning settler attacks in bid to curb an escalation of Palestinian Israeli violence. Referring to several attacks on Palestinians over the weekend, Moshe Ya'alone, Israeli minister for strategic affairs, stated, "The hate crimes committed over the weekend against Arabs in [the West Bank] and Jerusalem are intolerable, outrageous and must be firmly dealt with. These are terrorist attacks. They run contrary to Jewish morality and values, and constitute first and foremost an educational and moral failure."
According to the UN office for humanitarian affairs, three Palestinians were killed and 183 injured by settlers in 2011 alone. 10,000 trees were damaged or destroyed. More than 90% of complaints filed with Israeli police were closed without charges.
However, rights groups in the region are uncertain as to whether the change in language from Israeli and US officials will actually curb settler violence in the West Bank. "One of the key factors in the growth of settler violence is the lack of effective law enforcement," said Sarit Michaeli of human rights group B'Tselem. "The Israelis have been calling settler violence 'terrorism' for a while now, but that in itself is not a guarantee that they will fulfill their obligations to protect Palestinians."