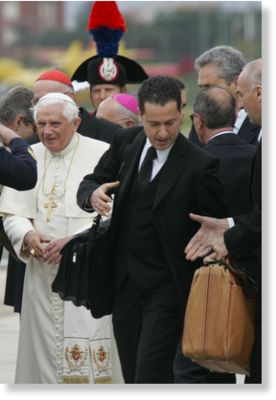 Vatican City - The pope's former butler Paolo Gabriele, who will stand trial for leaking confidential papers, was a model employee in many ways but also a troubled and frustrated character, the Holy See says.
Renowned as a trusted and dedicated companion to the aged pontiff, Gabriele, 46, shocked the tiny Vatican community with his admission of guilt and left many wondering why he decided to turn whistleblower and risk his freedom.
Questions remain over whether Gabriele was acting out of love for the Church and the pope, as he has claimed, or whether he has become the scapegoat in a wider conspiracy to unseat powerful figures in the Vatican.
"I was moved to act by my deep faith and the desire to shed light on everything that goes on in the Church," Gabriele told a Vatican magistrate.
Married with three children, he was known as a pious and very discreet character, who was one of the select few who had access to Pope Benedict XVI's private chambers and attended him both when he woke and last thing at night.
Known as Paoletto, he had worked for Benedict since 2006 and was often seen by the pope's side on foreign trips, riding with him in the "popemobile".
It was Gabriele's job to prepare the pontifical ceremonial robes, which he helped the 85-year-old German pontiff don each morning at dawn, before serving him lunch and dinner, and sometimes sitting down to eat alongside him.
When he was arrested at the end of May, a high-ranking Vatican official who had been the butler's confessor and knew him well told a newspaper that "Gabriele loves the pope so much that he would never betray him."
While he admitted leaking the documents, Gabriele told Vatican prosecutor Nicola Picardi he had done so "because the Holy Father was not correctly informed" about affairs at the heart of the powerful Catholic Church.
Many of the papers shed light on Vatican secrets, including the Church's tax problems, child sex scandals, negotiations with religious rebels and other murky affairs which Gabriele felt compelled to bring to the pope's attention.
"I was influenced by my surroundings, particularly the existence of a State in which conditions for scandal exist, feeding a series of unresolved mysteries and creating a bad atmosphere," Gabriele told the magistrate.
Reports by mental health experts, released by the Vatican, describe the butler as suffering, among other things, from "a serious psychological malaise, characterised by worry, tension, rage and frustration."
The reports found a "tragic contradiction" between the model employee and the whistleblower, between "Gabriele's intention to act for the pope's good" and "the seriousness of the acts performed," spokesman Federico Lombardi said.
Psychologist Roberto Tatarelli, who examined Gabriele, said his way of thinking suggested he may suffer from a persecution complex.
"Several times he made references to plots and schemes to favour, or damage, important people -- both lay and, more frequently, prelates," he said.
Claudio Sciarpelletti, an analyst and computer programmer in the Vatican state secretariat who has been charged with aiding Gabriele, knows the butler well and told judges that his friend had had "a painful life and childhood".
Though Gabriele also took from the Vatican a 100,000-euro ($125,000) cheque made out to the pontiff, a nugget of gold and a rare edition of Virgil's Aeneid from 1581, "nobody thinks his motivations were financial," Lombardi said.
Whatever the anger over the scandal, which has severely embarrassed the Church, the Vatican has been restrained in condemning Gabriele, speaking more often about the spiritual blow of betrayal than the act itself.
While the butler remains the main suspect behind the leaks, and insists he was working alone, the Vatican has said the complex case is far from over, and magistrates will continue to target others believed to be implicated.
There is a suspicion that Gabriele acted sincerely but was then manipulated as part of a plot within the secretive Vatican administration aimed at toppling the Vatican's number two, Cardinal Tarciso Bertone, from power.
Whether he really did draw the pope's attention to underhand affairs or merely fuelled an embarrassing scandal, Gabriele faces up to six years in jail for "aggravated theft" -- unless Benedict pardons him first.