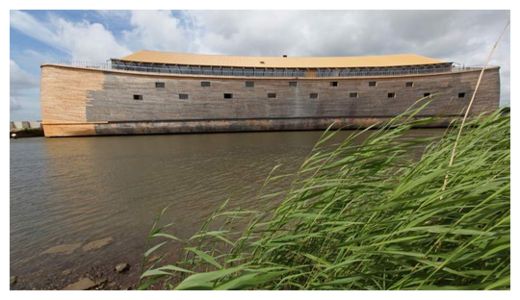 A faithful reproduction of Noah's ark, using the dimensions in The
Bible
, has just opened to the public in The Netherlands.
It was constructed by the Dutch creationist and millionaire building contractor Johan Huibers, after he dreamt that Holland would be flooded once again.
He used the ancient measurement of the cubit - the length of a man's arm from the elbow to the fingertips - to build the craft according to Biblical proportions.
In Genesis the ark is described as being 300 cubits long, 50 cubits wide, and 30 cubits high so the mammoth effort took him and his team of five just over four years to finish.
Using Mr Huiber's arm, the craft, which is moored in the southern Netherlands town of Dordrecht, is just over 450 feet in length, dwarfing buildings along the waterfront.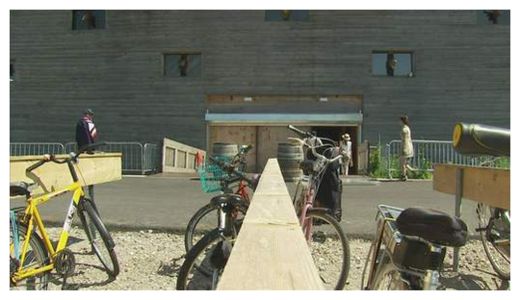 He has filled it with a plastic menagerie of animals - as well as a few species of live birds - to recreate the story of Noah for paying visitors and to make The
Bible
more 'touchable'.
Deborah Venema-Huibers, manager of the Ark, told Sky News that they had to abandon plans to sail the ark to the London Olympics after they were asked to make the wooden boat safer for visitors.
She said: "We would like to carry three thousand people on the boat (so) you can't say: 'We'll leave it like that'. You have (to clear) everything with the fire department, as it is all wood. It took such a long time that we had to skip the Olympics."
The boat was constructed by welding the metal hulls of several old barges together and then using Scandinavian pine for the skin.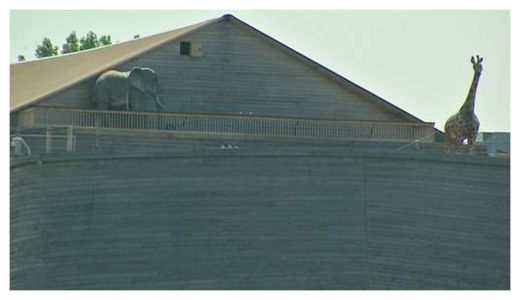 The
Bible
says Noah used 'gopher wood' when he built the original, but scholars disagree on what that is, so Mr Huibers used 'creative licence', both with the material and the design.
Mrs Huibers says they are being contacted by dozens of people worried about the Mayan prophecy of the end of the world in December this year.
"They are concerned, and they ask: 'Is there a flood coming again? Is the world going to be destroyed again? Can we stay here and board, and can we book a room?'
"But of course we tell them, the real safety is not here. This is not a rescue boat. It's a museum."