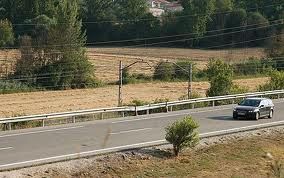 According to the British Embassy in Spain, an increasing number of British holidaymakers are being targeted in highway robberies across the country.
Unsuspecting tourists travelling in hire cars or British registered vehicles are particularly vulnerable on the AP7 stretch of motorway between the French border of La Jonquera and the Alicante region of Southern Spain where so far 140 cases of theft have been reported to local British consulates.
Some might speculate that the rise in motorway crime by well organised gangs has been exacerbated by the perilous state of the Spanish economy but in reality such tricksters have been using the same scams to rob tourists for many years. A popular ruse employed at motorway service stations involves surreptitiously puncturing a tyre and then offering to help the driver while an accomplice steals valuables from the vehicle. Another scam includes making loud bangs when a tourist's car is in transit causing the driver to pull over on to the hard shoulder. A fellow road user quickly pulls up offering assistance while a gang member steals from the victim's car.
The problem has become serious enough for the British Embassy to produce its own travel advisory leaflet entitled 'Driving safely and avoiding roadside scams in Spain'. Obviously it is right to warn British holidaymakers of the perils posed by highway pirates but equally useful would be for car hire companies not to flaunt their loud and colourful logos all over their vehicles. They might as well add signs reading: "Naïve tourist on board. Please rob me!"
In Majorca gangs operate mostly at Palma airport and large motorway supermarkets. They target holidaymakers who appear affluent and carry branded luxury luggage and computer bags. The tourists are tailed and those who stop at supermarkets off the motorway to stock up their larders, often come croppers. Gangs use the punctured tyre ruse or simply conjure up some other diversion to get the attention of the driver and passengers while other gang members steal from the vehicle. Another ploy is to follow a holidaymaker to a rental villa or hotel and wait for the lucky moment when the vehicle might be left unattended long enough to make a theft.
On rural tracks in secluded areas of the island I've recently noticed that some savvy walkers have parked their hire cars and left signs on the dashboard in Spanish and English which read: "Don't bother robbing. No valuables on board". Let's hope it works.
To avoid the opportunistic antics of thieves on the road, it makes sense for visitors to remain vigilant and to keep a close eye on their valuables at all times. Theft of this kind happens the world over and Spain is by no means the only popular holiday destination where tourists should be on their guard. I'm happy to report that after a decade living in Majorca I've never been scammed or had my car robbed although admittedly that could have more to do with the shambolic and tatty state of my luggage and the shabby appearance of my poor, spluttering old banger.