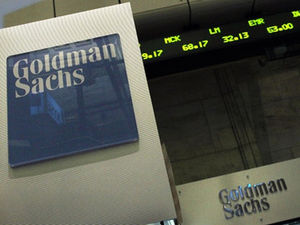 Goldman Sachs Group, the major US bank has created an in-house bank to lend money to wealthy people and companies, aiming to make deposits less vulnerable to the volatile markets.
­The move is in line with a strategy to turn Goldman Sachs into a private bank to serve rich individuals around the world, the
Wall Street Journal
reports. The new business will also lend more directly to corporations, particularly those, which do business with Goldman. The bank plans to boost its loan portfolio to $100 billion from $12 billion in April.
"It's a private bank,"
for its wealthy investing clients, Goldman's CEO Lloyd Blankfein said.
"We can afford to do that because we have the contacts and the balance sheet."
The shift in bank policy would allow wealthy clients an alternative to European banks which have recently pulled back from the sector, he added.
Goldman's banking unit has about $100 billion in assets, accounting for 10% of Goldman's total assets, while its banking operation had $49 billion in deposits in 2012, up 48% from the end of 2009.
Goldman as well as its rival Morgan Stanley converted into bank holding companies during the financial crisis in 2008 to access emergency funds from the Federal Reserve
.