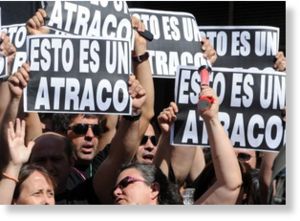 Hundreds of Spanish firemen, police officers and nurses marched yelling through the streets Monday, denouncing as "robbery" the pay cuts enforced under Spain's latest fiscal emergency plan.
"Hands up, this is a robbery," cried protestors as they blocked a major thoroughfare in central Madrid in a demonstration organised through messages on social networking sites such as Twitter.
The latest protests erupted after Prime Minister Mariano Rajoy last week announced new pay cuts and tax increases, aiming to save 65 billion euros ($80 billion) in order to lower the public deficit.
Spain is suffering its second recession in four years, with an unemployment rate of more than 24 percent.
Cuts to public budgets are already affecting services such as schools and hospitals and critics say Rajoy's new austerity measures will worsen economic conditions for ordinary people.
Among the latest steps is a cut in the Christmas bonus paid to civil servants, equivalent to a seven-percent reduction in annual pay.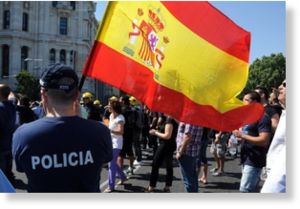 "It's intolerable. The problems of the Spanish state don't stem from civil servants... It's unfair and shameful," said nurse Miguel Contreras, 28, who came to protest in the capital Monday from the central Castilla-La Mancha region.
"There are hospitals with whole floors that are not being used because they are firing and cutting jobs. We have little hope, but staying sat at home would just make it easier for the government to keep on doing what it wants."
Thousands of people protested on the streets of Madrid on Friday after the government approved the measures, and again on Sunday evening, when they marched to the parliament where access was blocked by riot police.
Introduced by a conservative government under pressure from the European Union to stabilise Spain's public finances, the latest measures also raised value-added sales tax, with the upper limit rising from 18 to 21 percent.
"These measures will ruin Spain. We don't consume, we don't shop anymore. We have to hit the streets, we can't just sit there," said regional government worker Angeles Carrasco, 57.
Spain's two main unions, UGT and CCOO, have called for a day of demonstrations on Thursday.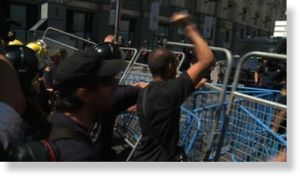 CCOO leader Ignacio Fernandez Toxo said on Monday that a general strike later was "inevitable" if the government maintained the austerity plan. This year has already seen one general strike, in March.
Unions have called for the protests to be peaceful but clashes broke out on the fringes of some demonstrations in Madrid last week, including a major march by striking coal miners on Wednesday.
Small groups of protestors threw stones and police fired rubber bullets, beat some protestors with batons and made several arrests.
Spain will this month become the fourth eurozone country, after Greece, Ireland and Portugal, to get bailout funds when it receives the first tranche of a 100-billion-euro kitty for its banking sector.
The bailout has annoyed ordinary Spaniards who feel their banks are being rewarded while they endure cuts.
The axing of the bonus for civil servants came on top of an earlier pay cut in 2010, after which their salaries were frozen.
"We can't buy presents and food at Christmas," said Maria Garcia, 50, an administrative worker for the regional government who attended Monday's demonstration during her half-hour morning coffee break.
"If the vacuum cleaner breaks, you have to clean with a broom."