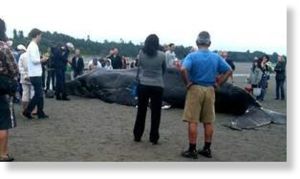 Canada, Vancouver - A Fisheries Department spokesman says a humpback whale that washed up on the beach in White Rock, B.C., had fishing gear caught in its mouth before it starved to death.
Paul Cottrell says it's tough to pin down where the longline fishing gear came from or whether it was being used or abandoned.
He says more and more young humpbacks are getting entangled in fishing gear and other items as they move into in-shore waters.
A veterinary pathologist has said ropes were buried deep in the whale's mouth and that it likely died a slow death after beaching itself on the tidal mud flats of the beach south of Vancouver on June 12.
Gouges on the whale's body revealed how it had been entangled, and also suggest it had developed infections from the injuries.
Fisheries experts are working to identify the emaciated juvenile from the patterns on its tail flukes, in hopes of determining where it came from.
Source: CKNW/The Canadian Press