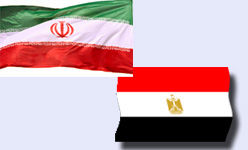 A senior Egyptian politician underscored the Iranian and Egyptian nations' abundant commonalities, and called for the resumption of relations between Tehran and Cairo.
"Iran is one of the third world countries like Egypt and we should cooperate with other countries, including Iran, regardless of religious differences," member of the secretariat of Egypt's popular socialist coalition party and deputy head of the country's al-Tajmee' party Anis al-Beya' told FNA on Saturday.
In relevant remarks last month, Egyptian new President Mohammad Mursi also underlined his enthusiasm for the further expansion of ties with Iran, and said relations between Tehran and Cairo will create a strategic balance in the region.
"The issue will create a strategic balance in the region," Mursi told FNA in June, hours before the final results of the presidential election was announced.
Earlier this month, Iranian President Mahmoud Ahmadinejad and Mursi, in their first telephone conversation, conferred on the two Muslim countries' ties and the upcoming summit of the Non-Aligned Movement (NAM) in Tehran.
President Ahmadinejad said Tehran welcomes close interactions with the Egyptian government and nation, and attaches no limitations to the expansion of ties and cooperation with Cairo.
Ahmadinejad expressed Iran's preparedness to transfer capabilities, achievements and experiences in various scientific, technological, industrial and economic fields to the Egyptian people.
He also invited Egypt's first democratically-elected president to participate in the NAM summit.