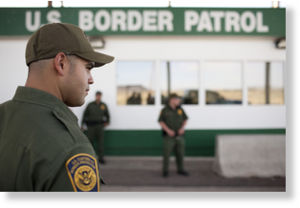 San Antonio, Texas - U.S. Border Patrol agents opened fire Saturday along the Rio Grande on the Texas-Mexico border after being pelted by rocks and having a gunman point a weapon in their direction on the Mexican side of the river, an agency spokesman said.
Spokesman Henry Mendiola said no Border Patrol agents were injured in the incident Saturday near Brownsville. He did not know if anyone else was hurt. He said the Mexican government had been notified and was responding to the area. The FBI also was investigating.
The Border Patrol released little details about the morning gunfire, including what the suspects were doing on the river.
Mendiola said several people had been taken into custody but that he could not provide details about the suspects or charges they face.
One of the agents started shooting after being "unable to take cover" when rocks were thrown, while the other opened fire after seeing a suspect on the Mexican side of the river pointing a gun at him, Mendiola said.
He added that as rocks were thrown, "at least one of the agents feared for his life."
U.S. lawmen opening fire along the Texas border is not routine, but Saturday was the latest in several such incidents in the past year.
Border Patrol agents seizing 4,000 pounds of marijuana in March near Roma got into a shootout with drug smugglers. In that incident, it also was not known whether anyone on the Mexican side had been hit.
Last summer, authorities said Border Patrol agents and Rangers with the Texas Department of Public Safety exchanged about 300 rounds of gunfire with suspected drug smugglers. Officials said the suspects threw rocks at U.S. lawmen in that incident, too.
In 2010, a Border Patrol agent in El Paso shot and killed a 15-year-old Mexican boy across the Rio Grande. Investigators say the agent fired after being attacked by people throwing rocks.
Source: The Associated Press