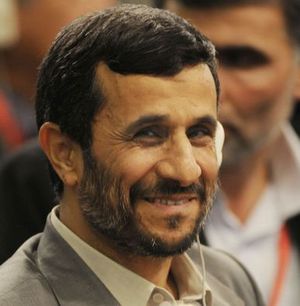 Iranian President Mahmoud Ahmadinejad underlined the Iranian nation's respect for humanity and all races and religions, and said Iran does not hold racist or nationalist beliefs as it wants progress and advancement for all nations.
"The emphasis on Iran's importance in man's exaltation is not rooted in nationalist and racist views at all since Iranians have never been racists in the history," Ahmadinejad said in Tehran on Monday.
He said Iranians are strongly opposed to racist views, and have always viewed other nations through an outlook beyond racial values and geographical borders and based on humane values.
His remarks came after the Zionist-led media launched an intensive propaganda campaign against the remarks of Iran's First Vice-President Mohammad Reza Rahimi at a recent UN anti-drug conference, where he condemned Zionists, and not Jews, for inciting global drug trade and addiction in a bid to annihilate other nations.
Iran has always underlined that it respects Jews, but condemns Zionism as a racist cult.
Addressing a ceremony on the occasion of the International Day of Drug Abuse on Tuesday, Rahimi had stated that "the
Zionists play a key role in the production and distribution of narcotics across the globe, because destroying human societies and exploiting their virtues are among the objectives of the Zionists".
Following his comments, a growing wave of pro-Zionism statements by western officials and bodies overwhelmed the media in the West, fabricating Rahimi's remarks and intention and then condemning his view.
While Rahimi blamed the Zionists for the international drug trade and growing addiction in the world, the media reports and statements of the western officials attributed his words to Jews and Judaism.
In reaction, the Iranian foreign ministry underlined that Rahimi's comments were only directed at the Zionists, and not Jews as the country feels full respect for Jews and Judaism as a divine religion.
Iranian Foreign Ministry Spokesman Ramin Mehman-Parast reminded that Iran has been a main pillar and pioneer of dialogue among religions and civilizations due to the very same belief and respect for Ibrahimic faiths.
He further stressed Tehran's campaign against racism in all its forms, including Zionism, saying, "Campaign against racism has been an irrevocable principle of Iran's foreign policy."
The spokesman reminded that Iran has always differentiated Judaism from Zionism and it has always condemned the racist practice of Zionism, while respecting Jews and Judaism.
"Distortion of the religion of Judaism due to the formation of political Zionism has always been a target of protests and objections by all the world freedom-seekers and even the followers of Judaism, and accusing the Islamic Republic of Iran of racism is, thus, a fully wrong approach and thought."
"As stated in Mr. Rahimi's remarks,
there definitely are serious differences between the teachings of divine religions and the extremist racist and anti-human rights thoughts of Zionism
," Mehman-Parast said.
Rahimi had stated in his Tuesday remarks that "we (Iran) are opposed to global Zionism, although we feel respect for the followers of Prophet Moses (PBUH)".
To end his remarks, the foreign ministry spokesman asked "those who claim to be campaigning against racism to break their silence and take action against the Zionists' completely inhumane acts against the oppressed people of Palestine and violation of Muslims' rights in other parts of the world".