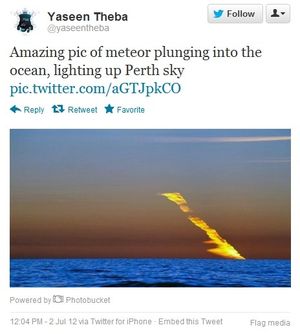 The sunset off the WA coast looked extra spectacular Friday as an object believed to be a meteor made a stunning view. A long yellow orange fiery trail is seen over the horizon over Cottlesloe, and photos of the sight immediately spread on Twitter.
However, it has not been confirmed whether the blazing display of colourful light was indeed a meteor plunge. PertNow reported it tried to reach Perth Observatory and Astronomy WA, but it "could not be reached for comment."
"The weird streak in the sky as seen from Cottesloe last night. I noticed it just before sunset," media reader
Gavin Trought told PertNow
in a photo caption.
"It looked like vapour. It was red, orange and yellow and quite beautiful,'' said Daniel Jongue, a manager at The Naked Fig Cafe.
Some readers who also saw the still mysterious phenomenon have commented on the PerthNow report.
"I live in the hills and was coming down about 5.45pm. I looked to the horizon and was amazed at what I saw. Not the same as this but pink in colour and going down in a straighter line than this picture. But still not something you would see normally," said reader blond61.
"I was at the beach 2 hours over the entire sunset. it was definately not a meteor. it was a plane's vapour trail, (a)nd was ordinary about 20 minutes before that photo was taken. (I)t was just the sunset that made it look so "fiery," said reader Troy.
"I work on the beach and saw that... got quite a few photos... it started before sunset as just a "smoke" or vapour trail... it was quite clean and straight so I honestly just thought it was a jetstream... hung around for a while and as the sun set it became the beautiful scene you see above. I'll be surprised to hear if it actually was a meteor," said reader Steve.
On Twitter, those who have seen the photos also weighed in on the scene.
@davidlmorris: Wondering if this was a jet contrail instead of what
this paper
claims
@dannews: Pretty sure
it's just a contrail
?
@ShiningStarKW: Wow
what a sight
! Poor fishes tho.
If you are an expert in the field or have seen the stunning sunset sky display, send in your comments and help in setting the
"Perth meteor"
record straight.