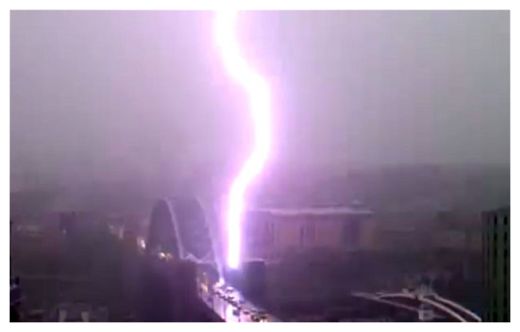 The Met Office said more than 110,000 lightning bolts were recorded across the UK, with more than 200 strikes recorded every minute at the peak of activity.
Experts said this was 40 times higher than an average lightning storm and was the equivalent of four months' worth of strikes in one day.
Government forecasters said most of Thursday's strikes, which came as rare "super cell" thunderstorms battered the Midlands and northern regions, were fork lightning and hit the ground.
In one dramatic video, footage showed a spectacular bolt striking the lighting storm over a field in Suffolk, UK Bridge, linking Newcastle and Gateshead, which captured the intensity of the fierce storms that swept across the North.
While the Met Office does not maintain lightning records, the UK Tornado and Storm Research Organisation (TORRO) suggested Thursday's levels were a record amount to hit Britain in one day.
A spokesman said Britain's previous highest published daily lightning ground strike total was 85,000, recorded on July 24, 1994.
Forecasters said the huge levels of lightning was caused by warm air, originally from Spain and Portugal, travelling North where it was met by cold air caused by several weather fronts that had come in from the Atlantic in the West.
The Met Office described it as an "exceptionally severe weather".
Emma Sharples, a Met Office forecaster, said this combination then produced significant levels of "convection", which in turn caused the lightning strikes.
"It has been a good few years since we have seen something of that magnitude across the UK," she added. "From the reports we have received it was quite a spectacle."