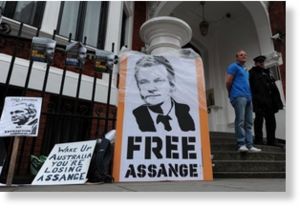 London - It sounds like a brainteaser: how could WikiLeaks founder Julian Assange get from Ecuador's embassy in London onto a plane to its capital Quito, without setting foot on British territory?
When he walked into the embassy on Tuesday seeking political asylum, the Australian ex-hacker pinned his hopes on Ecuador as his ticket out of extradition to Sweden, where he faces questioning over sex crime allegations.
But legal experts say the dramatic escape bid has lured 40-year-old Assange, who had exhausted his British legal options -- into an apparent dead end.
Britain's Foreign Office says that as long as the anti-secrecy campaigner stays in the embassy, which occupies a flat in London's plush Knightsbridge district, he is beyond the reach of the police.
But if he steps outside, he faces immediate arrest by the police for having breached bail conditions, which include staying at his bail address between 10:00 pm and 8:00 am. And Scotland Yard officers are guarding the exits.
Barrister Carl Gardner summed up the situation as "a headache".
"Merely the fact of giving someone asylum doesn't mean they can travel across another country's territory without being arrested," he said.
"It's not at all obvious how he could get to Ecuador."
Paul Whiteway, London Director of the Independent Diplomat consultancy, said Assange could be arrested even before leaving the embassy's Victorian mansion block, which faces the famous Harrods department store.
"The premises are covered by diplomatic immunity under the Vienna Convention," he told AFP. "But in this case, the Ecuadorian embassy only occupies part of the building."
He added: "The inviolability of the embassy ought to extend to forms of transport, but even if he were able to get into a car, what would happen at the other end? How would he get into an aeroplane without being arrested?"
The puzzle has already spawned a number of ambitious escape scenarios.
There has been speculation over whether Ecuadorian officials could bundle Assange out of Britain in a large "diplomatic bag" with immunity from search or seizure.
In a notorious case in 1984, the Nigerian government tried to kidnap former minister Umaru Dikko by smuggling him from Britain to Nigeria as diplomatic baggage. The plot was foiled by customs officials.
Gardner dismissed the idea that Assange would be put in a diplomatic bag as the stuff of "spy fiction", but had his own inventive suggestion.
"Possibly the best way Ecuador could help him -- and this sounds mad -- is if they appoint him one of their representatives to the UN," the former government lawyer said.
Legal experts say British authorities could reject any attempts to have Assange accredited as an ordinary diplomat.
But Gardner believes that if Assange was made a representative to the UN, international law could guarantee him safe passage to the UN's New York headquarters and then to his post in Ecuador.
"From his point of view, it would be flying into the jaws of the lion," he admitted, stressing that the plan involved "extreme legal creativity".
Assange has said he fears that if he was extradited to Sweden, Stockholm would eventually hand him over to the United States.
The WikiLeaks website enraged Washington by publishing a flood of secret US information about the wars in Iraq and Afghanistan, and more than 250,000 classified US diplomatic cables.
Ecuador's President Rafael Correa, who has often been at odds with Washington, has said he is considering Assange's asylum request and studying the WikiLeaks founder's claim that he could be sentenced to death in the United States.
Correa insists Ecuador will make a decision "without bowing to absolutely any pressure".
But he also said: "We don't want to offend anyone, least of all a country for whom we have deep respect, like the United Kingdom."
Whiteway believes British authorities are determined not to let Assange leave because his success could spark a wave of copycat asylum bids.
"It could open the floodgates to other cases of individuals involved in legal cases who might seek to avoid UK jurisdiction by claiming asylum in a foreign embassy," he said. "That would surely be deeply unwelcome."
Ecuador has pledged to take its time assessing Assange's request.
In extreme cases, asylum-seekers have stayed holed up in embassies for years. In 1956, the United States granted Hungarian cardinal Jozsef Mindszenty refuge in its Budapest embassy. He stayed until 1971.