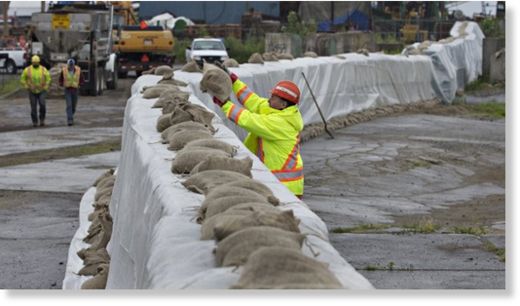 Canada, B.C. - The flood watch continues around parts of British Columbia, with another community in the Fraser Valley issuing evacuation alerts to 43 homes.
Fred Armstrong with the District of Maple Ridge says the homes are located outside the dike system and the alerts have been issued because of high water levels in the Fraser River.
He says the alerts allow officials to provide information to residents on what they should do in the event of an actual evacuation.
However, Armstrong says the district doesn't believe the river's levels will rise high enough to force such a move.
The City of Abbotsford, located about 70 kilometres east of Vancouver, declared a state of emergency on Friday, issuing evacuation orders to 28 residents in the Glen Valley and three residents on the Matsqui Prairie.
Just one day earlier, the City of Chilliwack, located 27 kilometres east of Abbotsford, issued evacuation orders to 12 residents living in three homes when it appeared the river was about to spill over a berm at Carey Point, on the northeastern edge of the city.
Kurtis Vanderhorst was called out by his family in Chilliwack on Friday night to help prepare for flooding.
"[It's] a lot of work. I came down here to help them out ... I was here until about a quarter to twelve last night, just helping them put a berm and sandbag around the house," he said. "There's a lot of water. They moved their freezers and fridges and stuff, and moved everything up high."
Emergency officials around B.C. and even Alberta are on alert as the mighty Fraser River, swollen by a melting snowpack and deluge of rain, threatens to breach dikes and damage homes, property and livestock near Vancouver.
The Ministry of Justice announced Friday that 1,000 provincial forestry firefighters are on standby, Canadian Forces personnel from Edmonton, Esquimalt and Vancouver are on alert, and about two million sandbags are available in case of major flooding across the province.
The provincial emergency co-ordination centre and its three regional centres in Prince George, Kamloops and Surrey are now active, as are 19 operations centres run by municipalities, said program officials.
"We do remind people that flood waters are dangerous and to stay away from stream and river banks, to follow the instructions of emergency management staff for alerts and orders, and remind people that not following these instructions may jeopardize the safety of yourself or your family," said Chris Duffy, executive director of emergency co-ordination for Emergency Management BC.
The B.C. River Forecast Centre says warm and wet weather is expected across the province, with heavy rainfall in the Kootenay, Okanagan, Monashee, Cariboo and Chilcotin regions.
Dave Campbell, head of the B.C. River Forecast Centre, said the current surge on the lower Fraser is a result of heavy rainfall last week.
"In general, we've had an exceptionally wet June, which is in combination with fairly heavy snowpacks this year in a number of regions in the province," he said.
Campbell said the province is beginning to "chew through" the snowpack, but the concern now is the ongoing rainfall.
The forecast centre has previously reported that peak river levels take about two and one-half days to travel to Hope from Prince George and then another half day to travel to the ocean.
Campbell said the Fraser River at Hope hit its peak Thursday night and Friday morning with a flow of about 11,900 cubic metres a second.
That pulse is now flowing downstream, and the Lower Mainland will see ongoing rises in the river's level into Sunday, he said.
Downstream from Hope, a gauge at Mission hit 6.36 metres Saturday morning. The river was expected to reach 6.56 by the end of the day and continue rising Sunday.
Campbell said the timing of peak river levels farther downstream will depend on tides as well.
Campbell said about 10 per cent of the flow on the lower Fraser is coming from the Coast Mountains and Fraser Valley area, and weekend rains will drive up the flow, leading to continued high river levels.
In the Interior, the Thompson River systems, Shuswap Lake and Shuswap River continue to see high levels but have seen some levelling off in the past few days, said Campbell.
On the upper Fraser River, officials are expecting to see another rise near Prince George into next week, and the river will likely hit about 10 metres, a similar level as last week, said Campbell.
He said the Lower Fraser should see a short reprieve, before rain from the Interior works its way down the river next week.
Shirley Bond, B.C.'s minister of justice and attorney general, said in a statement that the government is supporting local authorities and First Nations and is marshalling resources to respond to flood emergencies.
Besides the firefighters and military personnel, Bond said 3.3 kilometres of temporary dikes, known as Gabion Baskets, have already been installed in Prince George out of a total availability of 9.5 kilometres.
She also announced transportation is available to move cattle if necessary, and eight sandbag machines have been placed around the province in strategic locations, including two in Mount Currie and Merritt.
"The Fraser Health Authority is identifying home care clients in unprotected areas needing additional support, and we are monitoring and assessing institutions like the Burnaby Youth Custody Centre and Forensic Hospital that may require additional support during a flood event," she said.