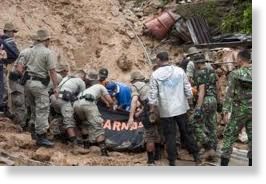 Authorities in eastern Indonesia were searching for a missing 13-year boy Wednesday still missing after a landslide in eastern Indonesia.
"We have recovered 13 people, two of them were still alive and now recovering in hospital. Eleven people are confirmed dead," the head of the regional disaster management body Broery Tjokro told dpa.
The landslide hit a residential area early Tuesday, in Ambon, the capital of Maluku province. The boy was the only person still unaccounted for.
Heavy rain and unstable terrain have hampered rescue efforts.