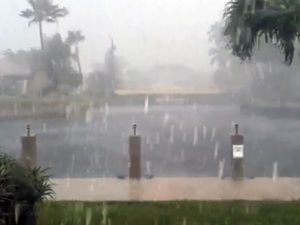 Violent lightning strikes that sent at least 3 people to the hospital and hail the size of golf balls marked a series of violent thunderstorms that swept South Florida from Palm Beach County to Homestead Friday.
CBS4 viewers sent in photos and video of hail ranging in size from dimes to golf balls, with even larger egg-sized hail being reported in Coral Gables.
As the afternoon progressed, more severe weather was reported offshore and in Miami-Dade county. Storms brought a violent cast in South Miami-Dade, when 3 men at a construction site were reportedly struck by lightning.
Homestead police said 3 men were standing at a pickup truck when they were struck by a bolt of lightning. "They were just standing here just talking about the construction site when a lightning strike hits and affects all three of them," explained Detective Fernando Morales of the Homestead Police Department.
He said a 29-year-old was able to walk away from the lightning strike, but one man was severely burned and a third man's heart stopped. "He actually was non-responsive and in cardiac arrest," said Morales, adding "Homestead police arrived and conducted CPR and were actually able to get a pulse, they basically saved his life."
Two of the men were taken to Jackson Memorial Hospital's Ryder Trauma Center; the third went to Homestead Hospital.
In Coconut Grove, a tree fell on a car trapping a family inside. Francoise Cham said, "I was stuck in bumper to bumper traffic and the wind and hail started coming and a tree just fell on top of my car - busted the back window and the top of the vehicle and the side."
Her seven-year-old daughter was inside the car and she says there were some tense moments waiting for rescuers. "I was like I hope there's no more wind because there's a lot of trees around and I don't want anything else falling and I just want to get out of this car," she said. In the end the family was thankful no one was hurt.
But, according to CBS4 meteorologist Craig Setzer, the storms will take a break just in time for the weekend. The storms will subside as a weak June cold front moves across South Florida.
The front, there will be a building ocean breeze that should help keep temperatures in the upper 80's this weekend. The breeze could bring a few quick showers across parts of the area over the weekend.