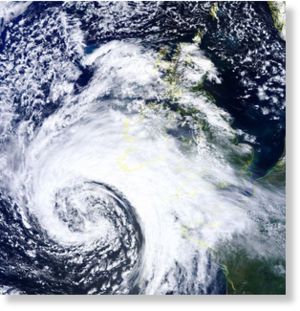 Britain is braced for yet more flood misery as a "once in 50 years" storm is set to hit the UK tomorrow.
Flood warnings have been issued in parts of England and Wales with a month's worth of rain and winds of up to 70mph expected in the next 24 hours.
After a dry period of respite for many parts of Britain yesterday, the wet weather is set to return this evening and get worse going into tomorrow as a slow-moving area of low pressure brings thundery showers and strong winds.
The Met Office has issued a new warning of wet and windy weather with periods of persistent heavy rain for parts of Wales and south-western England from late today until Saturday.
The Weather Channel
also predicted up to 110mm of rain in 48 hours, with a 50 per cent chance of a once-in-50 years 80mm downpour in just 12 hours.
Forecaster Leon Brown reportedly said: "There's a 50 per cent possibility of extreme downpours seeing over 80mm of rain in 12 hours in south and east Wales, which is a once-in-50 years event.
"The greatest intensity of rain will be early Thursday night and again on Friday daytime. Overall, up to 110mm is expected in Wales in just over 48 hours to midnight Saturday.
"This rainfall will be widespread across river catchment areas and could completely overwhelm rivers downstream.
"There is a high risk of flooding, with the situation made even worse by ground being saturated from previous rain this week."
Many parts of the country will be affected by rain as the system moves north, with winds of up to 55mph in parts of the South East and East Anglia, according to MeteoGroup.
The Environment Agency urged people in the South West and most of Wales to remain vigilant and prepared for flooding.
There are concerns the rain could lead to surface water flooding particularly in upland areas and places already at risk of floods after heavy rain earlier this week.
The Environment Agency has two flood warnings for rivers in place, where flooding is expected, and 12 less serious flood alerts.
The government agency has also issued direct flood alerts to more than 32,500 properties this week.
Pumping equipment has been deployed in several areas in West Sussex to pump out water following flooding earlier in the week.
The Environment Agency said river levels across the South East were being monitored closely amid forecasts of more wet weather, with potentially up to 20mm of rainfall tomorrow and into the weekend.
In preparation, teams were out closing flood gates, operating flood storage areas, clearing debris from known hotspots and warning local communities about the possibility of flooding.
Peter Quarmby, the Environment Agency's South East flood and coastal risk manager, said: "We have seen exceptional rainfall in the region over the past few days and have seen the devastating effects that flooding can cause. Our thoughts are with those who have been affected.
"We are focusing all efforts in working in areas that have been affected by flooding over the past few days to lower river levels and will continue to work alongside our emergency partners to assist flooded communities with immediate response and recovery.
"Latest forecasts indicate that heavy rainfall is again expected to cross the South East on Friday and into the weekend. We urge everyone to remain vigilant ahead of further rainfall tomorrow and over the weekend.
"We are monitoring the weather forecasts very closely and the possibility remains that we could issue further flood alerts in response to any significant rainfall."