A man who killed a toddler after it disturbed him while he was playing a computer game has been sentenced to nine years in prison.
Trent Hapuku, 23, was sentenced for the manslaughter by Justice Forrest Miller in the High Court in Napier.
Hapuku killed the five-month-old Mikara Reti on January 11 last year.
Hapuku and Mikara were alone in a sleepout when Hapuku lashed out because the infant was distracting him from playing the PlayStation game
Scarface
. Mikara was struck so hard his liver nearly split in two against his spine.
Crown lawyer Steve Manning said it was an intentional and violent assault on one of society's most vulnerable members and said a non-parole period was required in order to send a message of denunciation and deterrence.
Mikara's grandmother Selena Reti read a victim impact statement in court describing the effect the death had on the family and told Hapuku "I hope wherever you look you see Mikara staring back at you".
Mikara's mother Jamie Reti read a statement in which she said she would never forgive herself for trusting Hapuku with her son.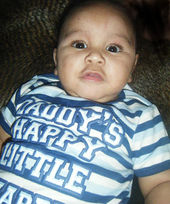 "No parent should have to bury their child," she said.
Hapuku was found guilty of manslaughter after a second trial last month. An earlier trial ended with a hung jury.
Mikara was the son of Hapuku's girlfriend Jamie Reti, who lived in a sleepout on her parents' Flaxmere property.
Mikara died of internal bleeding.
Much of the trial revolved around medical evidence and the timing of Mikara's death.
Three Crown experts including a pathologist, a pediatric surgeon, and the clinical head of the Hawke's Bay Hospital's accident and emergency department told the jury that Mikara died within "minutes to tens of minutes" of suffering the blow to his abdomen.
Defence pathologist James Ferris claimed the rupture of Mikara's liver had occurred at least 12 hours after he suffered a blow. He based this on cells observed on slides taken from autopsy.