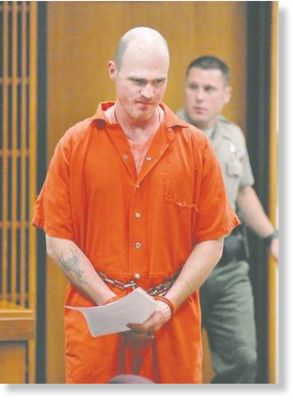 Washington State - Convicted felon Patrick B. Drum, accused of murder in the weekend shooting deaths of two convicted sex offenders - one of them his roommate - had intended to kill more sex offenders when he was arrested following an extensive manhunt, Clallam County Prosecuting Attorney Deb Kelly said Monday.
A probable-cause statement issued Monday by the Clallam County Sheriff's Department alleged that Drum, 34, of Sequim committed two counts of first-degree murder and one count of first-degree burglary.
The victims were Drum's roommate, Gary Lee Blanton Jr., 28, found dead at the 5011 Sequim-Dungeness Way residence Blanton and Drum shared.
Jerry W. Ray, 56 - earlier accounts had said he was 51 - was found dead at Ray's 31 Heuhslein Road home east of Port Angeles.
Drum was arrested with a shoulder-holstered 9 mm pistol at about 2:30 p.m. Sunday after an intense manhunt by about 65 law enforcement officers from city, county, state and federal agencies, including the U.S. Border Patrol, which deployed a helicopter, authorities said at a news conference Monday afternoon.
"[Drum] had stated his intent not to stop with two victims but to continue as long as he could until he was stopped by law enforcement," Kelly said earlier Monday at Drum's first appearance in Clallam County Superior Court.
"Frankly, I'm concerned about the vigilante aspect," Kelly said, adding that bloggers "are making approving comments" about Drum's alleged violence toward the victims on the Internet.
Drum repeatedly yawned during the hearing, half-smiled at the audience of about 15 in the courtroom and was told by a deputy to look at Wood and not turn around.
According to the publicly available list of area sex offenders provided on a website of the Clallam County Sheriff's Office, which includes offenders' photos, Ray was convicted in 2002 of first-degree rape of a child, while Blanton was convicted in 2001 of third-degree rape.
Drum shot Blanton and Ray multiple times "because they were sex offenders," Drum told police, according the probable-cause statement.
"Drum also stated that he had intended on driving to Jefferson County where another sex offender resided, with the intent to kill him, too," the statement said.
At the news conference, Clallam County Sheriff Bill Benedict warned against committing violence toward convicted sex offenders.
"Anyone who is interested in taking things into their own hands and deciding to attack sex offenders in the community, we will deal with them very strongly," Benedict said.
Drum was not himself a convicted sex offender, and Benedict said he did not know if Drum was a victim of sexual abuse.
Drum "was very well-known to Sequim police," Benedict said, and had served four years for drug-related offenses at the Washington State Penitentiary in Walla Walla.
Drum had become roommates with Blanton "within the last week or two," sheriff's investigator Sgt. Lyman Moores said, but authorities Monday did not know the nature of Drum's relationship with Ray.
Drum said Monday in court that he wanted to act as his own attorney, but Judge George L. Wood - noting that Drum could be sentenced to death if convicted - appointed Port Angeles lawyer Karen Unger as Drum's attorney.
Kelly told Wood she intends to seek charges of aggravated first-degree murder.
Wood set 1 p.m. Wednesday for a bail hearing, and Drum remained incarcerated without bail at Clallam County jail.
It was the second double-homicide in Clallam County in fewer than four months.
Clallam County sheriff's investigators said John F. Loring, killed Raymond Varney, 68, of Diamond Point on or about Feb. 16 and David Randle, 19, of Dungeness on Feb. 21, before turning his gun on himself Feb. 22 in a west Port Angeles apartment while under siege by SWAT officers.
The probable cause statement gave this account of events that led to Drum's arrest:
■ 9:26 p.m. Saturday: A Jefferson County Sheriff's Office dispatch received a 9-1-1 cellphone call by a male who said, "Help, 9-1-1, I'm being shot" from the area of Sequim-Dungeness Way and Collins Road, but was unable to locate the source of the call.
■ 6:30 a.m. Sunday: deputies went to a Blue Mountain Road residence between Port Angeles and Sequim to investigate a report of a suspicious male sitting on a resident's porch who identified himself as Patrick and who left the premises after telling the homeowners "they had nothing to worry about."
A deputy discovered an abandoned rental car near the house that Drum had rented that had a note inside signed by Drum.
It said Drum was "sorry for the disturbances that he had caused."
There also was an empty box of 9 mm bullets inside the vehicle.
■ 7:50 a.m. Sunday: Medics were called to Ray's house, where his father found Ray's body with multiple gunshot wounds.
The front door of the home had been forced open. Officers found 9 mm bullet casings at the scene.
While officers investigated Ray's death and looked for Drum on Blue Mountain Road, Sequim police checked on Blanton's welfare after Blanton's wife said she had not seen or heard from Blanton.
She told authorities Drum had texted her Saturday night to tell her that Drum and Blanton were going camping.
Blanton was found dead in his house, and 9 mm casing were on the floor.
■ 2:30 p.m. Sunday: Drum is taken into custody.
At the news conference, Sheriff's Office Chief Criminal Deputy Ron Cameron said the bodies of Blanton and Ray were found about 5 miles apart.
Drum was apprehended after he hitched a ride with a motorist near in the area of the Gellor Road-Blue Mountain Road intersection, where authorities had set up a command post at about 11 a.m.
Drum, dressed in long pants and a sleeveless undershirt, was taken into custody without incident less than a quarter-mile from the command post after a person reported seeing him walking on a nearby access road.
Drum had hitched a ride to that area, authorities said.