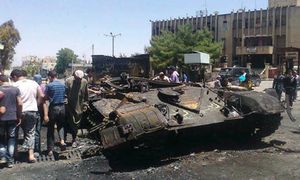 Syrian rebels killed at least 80 government soldiers at the weekend, an opposition watchdog has said.
The attacks came after rebels warned they would act if Syria's president, Bashar al-Assad, failed to observe a UN-backed ceasefire.
The latest violence, and Assad's defiant speech to parliament on Sunday, raised questions about how long the UN and Arab League envoy, Kofi Annan, can realistically pursue his peace plan.
The Syrian Observatory for Human Rights said local doctors had confirmed the names of 80 dead soldiers.
Insurgents told the British-based group they had killed more than 100 soldiers and destroyed some tanks in clashes across Syria, including in Damascus and Idlib province, in the north-west.
Syria's state news agency reported the burial on Monday of 30 members of the security forces killed by rebels.
Some commanders in the rebel Free Syrian Army announced last week they would be "free of any commitment" to Annan's peace plan if Assad failed to end violence by Friday. The massacre of at least 108 people, nearly half of them children, in the Houla area of Homs province on 25 May dealt a possibly fatal blow to Annan's proposed ceasefire, which was supposed to have taken effect on 12 April.
A withdrawal of Syrian troops was at the top of Annan's six-point plan to halt hostilities in Syria, the country the Assad family has controlled for 42 years.
"The Annan mission is essentially dead, and of course most western powers admit that," said Michael Stephens, researcher at the Royal United Services Institute's branch in Qatar.
"Houla changed the game completely in terms of what people were willing to accept and what they were not."
However, Russia and China, wary of any western-led military intervention in Syria, say Annan's plan is the only way forward. They have twice blocked UN security council resolutions that would have condemned Damascus, and perhaps led to sanctions. The position of the Russian president, Vladimir Putin, was in the spotlight at the start of a summit with EU leaders in St Petersburg.
Both Russia and Europe say they still support Kofi Annan's plan, but EU nations would like Russia to press Assad harder to abide by a ceasefire demanded by the plan, and want him to step aside as part of a political transition.
China's state newspaper, the People's Daily, has warned that any western-backed military intervention would unleash even bloodier chaos, and warned that abandoning Annan's plan could push Syria into full-scale war.
Source: Reuters