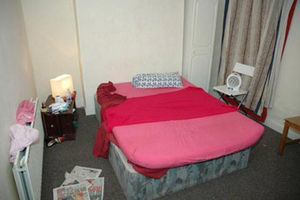 Three women arrested in a major cross-Border offensive against prostitution walked free today after pleading guilty to running a brothel in Belfast.
Some 140 brothels were raided by the PSNI and Garda yesterday as part of a cross-Border operation called Operation Quest.
Today in Belfast Magistrates' Court the three women, all Polish nationals, each received suspended two month prison sentences for the offence and another charge of possessing criminal property.
Sandra Polewska, Milena Tarnowska (both 23) and Marta Kozakowska (27) were detained during the raids yesterday.
Kozakowska admitted a third offence of obstructing police by swallowing a mobile phone SIM card when police entered their apartment yesterday.
The court heard they were the only ones involved in an unsophisticated brothel based at Alfred Street in the city. Prosecutors said officers seized large amounts of cash, sexual items, condoms and six mobile phones from the property.
Polewska claimed to be a student who had visited Northern Ireland six or seven times to work as a prostitute, advertising her services on an escort website.
Tarnowska told police she arrived for "fun and socialising" during a two-week stay before returning to get married in Poland.
The court heard she claimed to have danced and provided massages for men who called at the apartment, but denied offering any sexual services. Some of the clients occasionally gave her gifts, she said. She also confirmed her pictures were also on the website.
Kozakowska had dismantled one of the phones and removed the SIM card once police broke in. District Judge Fiona Bagnall was told she then swallowed it in an attempt to protect her clients and herself.
Her lawyer told the court: "She said she did that in a panic and that has turned out to be an unpleasant experience for herself subsequent to that particular incident."
Kozakowska, who had been in Northern Ireland since last November, also admitted providing sexual services. She was said to have taken calls and bookings at the apartment because she spoke better English than the other two. "It would be accepted by the prosecution that this was a very simple, unsophisticated set-up involving these three ladies," her lawyer added.
"Nobody else received any money from the girls as a result of their activities.
"There is no suggestion that anybody is in charge."
All three accused wanted to return to their native country and had no plans to return to Northern Ireland, the court heard. It was also stressed that human trafficking did not feature in the case.
Judge Bagnall accepted there was no allegations of exploitation and gave the women credit for pleading guilty to brothel keeping and having criminal property.
She imposed two month jail terms for each offence, suspending the sentences for 18 months.
Kozakowska was given another, concurrent, one month suspended sentence for obstructing police.
Forfeiture orders were made for cash seized from the property, which included sums of £1,255, £980 and €515.
Separately a PSNI spokesman said that two other women arrested in the North during yesterday's operation have been released on bail pending further enquiries. Three people identified as possible victims of human trafficking during in Northern Ireland are being offered advice and support by officers from the UK Human Trafficking Centre.
A woman arrested in Dublin has been charged under Section 9 of the Criminal Justice Act remanded in custody while another woman and a man also held in the Republic have been released without charge and files are being prepared for the DPP.
Organisations representing immigrants have welcomed the action by the Garda and PSNI. Denise Charlton, CEO of the Immigrant Council said the efforts of the two forces in helping women who have been trafficked into Ireland by criminal gangs was "very welcome".
"The size of the operation, covering almost every county, shows how those behind this sleazy trade have used a legal loophole to reach into every part of our country. While law enforcement efforts such as that now unfolding are important, if we seriously want to shut down the brothels and protect the women involved then law reform is the only answer."
"As a member of the Turn Off the Red Light Campaign, a coalition of more than 50 organisations, we want to see the Government act by making it illegal to pay for sex. It is this discrepancy in Irish law which has allowed the brothels to flourish and brought human rights abuses to our communities."
Meanwhile Cois Tine, a Cork-based charity which provides outreach services to African migrants living in Ireland, commended the police services on the joint operation.
"These raids, once again, confirm the presence of human trafficking in Ireland and its close relationship to the prostitution sector. Raids on brothels are an absolute necessity for locating victims trafficked into forced commercial sexual exploitation," Dave Lohan, a volunteer with Cois Tine and co-author of the charity's recently released book, Open Secrets: An Irish Perspective on Trafficking & Witchcraft.
"The practice is made all the more lucrative for criminal brothel keepers if they use trafficked women. In this way they pocket all the proceeds. The sheer number of premises raided points to the issue of demand and the fact that human trafficking is a demand-driven market. Cois Tine urges the public to consider the position adopted by the Turn Off The Red Light campaign, to rethink social attitudes towards the acceptability of prostitution and the need to end this scourge in Ireland by focusing on the demand that fuels it."