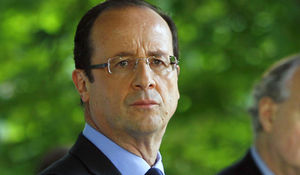 Paris -
French unions pressed President Francois Hollande to prove his job-saving mettle on Tuesday by handing his Socialist cabinet a list of looming company shutdowns that are threatening tens of thousands of jobs at the start of labor talks.
Hollande, who came to power this month against a grim economic backdrop, has promised to reverse rising unemployment and shore up the struggling manufacturing sector, partly by pumping investment into small and medium businesses.
As Prime Minister Jean-Marc Ayrault held his first talks with union leaders to discuss the job situation ahead of a July summit on social issues, Hollande's immediate challenge was to respond to the warnings about layoffs in the pipeline.
Hardline union CGT named 46 companies it said were planning to shut production sites in a list published in French media that showed about
90,000 jobs
threatened directly or indirectly.
Firms planning to close factories ranged from carmakers PSA Peugeot Citron and General Motors to retailer Conforama, according to the list.
"We want to deal with these layoff plans immediately," Francois Chereque, head of the CFDT union, France's largest by membership, told Europe 1 radio. "We are urgently requesting the state to focus on jobs. Jobs are the Number 1 problem."
The task of staving off an avalanche of job cuts falls to Industry Minister Arnaud Montebourg, present at Tuesday's talks, who has been given a mission to stop healthy firms from laying off workers.
But critics are skeptical he will be able to do so, as courts have already struck down one attempt to freeze a layoff plan.
Wage Conflict
Unions will also use Tuesday's talks to outline their views on how the new government should adjust the previous administration's raising of the retirement age and changes to the wage negotiation system and the minimum wage.
Chereque said Hollande would have to fulfill a campaign promise to raise the minimum wage, but said a rise of more than 20 percent, as hardline union FO wants, would be unrealistic.
Disagreement over the minimum wage and other issues could end Hollande's election honeymoon in the run-up to the July summit as the moderate CFDT clashes with the all-or-nothing approach of the FO and CGT unions.
Hollande, who promised during his campaign to create tens of thousands of public sector jobs, has yet to explain how he will boost the private sector, which analysts say is hampered by excessively rigid labor regulations.
France's first Socialist president in 17 years, Hollande wants to grant unions a position on company boards, where they would have more say on staffing decisions.
"I want to significantly modify relations with the social partners," Ayrault told magazine
L'Express
in an interview.
On pensions, he plans to use a government decree to tweak conservative former president Nicolas Sarkozy's two-year hike in the minimum retirement age to allow workers who started working at 18 or 19 to retire at 60.
Asked whether Hollande's tax-and-spend policies could eventually provoke a lurch toward austerity, as was the case under former Socialist president Francois Mitterrand, Ayrault said: "Much now depends on European policy. It's indispensable that the Brussels summit on May 23 leads to a positive outcome."
Reporting By Nicholas Vinocur; Editing by Andrew Heavens