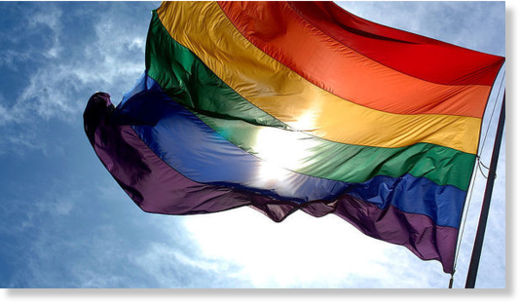 Almost half of Russians believe homosexuality is a human behavior acquired under the influence of the media, according to a poll taken by state-run pollster VTsIOM earlier this month.
"Forty-seven percent of the respondents said media and propaganda were the key factors contributing to development of a person's non-traditional sexual orientation," the pollster said in a press release issued Thursday.
Among other vital factors that impact the development of homosexuality, respondents named the influence of friends and parents (35 and 33 percent, respectively). Only 16 percent said that negative experience of past relationships with people of the opposite sex brings about homosexuality.
Same-sex relations were only decriminalized in Russia in 1993, and anti-gay sentiment remains strong among Russians, including the political establishment. In 2007, Former Moscow Mayor Yury Luzhkov described attempts to hold a Gay Parade in the capital as "satanic." No Gay Parade has ever been officially sanctioned in Russia.
According to the VTsIOM, the public perception of gays and lesbians in Russia is worse than that of people of other ethnicity, faith or social status. The poll found that 45 percent of those questioned feel negative about the need to communicate with homosexuals. About 38 percent said that people of non-tradition orientation do not provoke any special emotional reaction.
Meanwhile, U.S. President Barack Obama on Wednesday voiced his support for same-sex marriage. According to a Gallup Poll taken in May, 54 percent of Americans now agree that same-sex relationships are "morally acceptable" and an even larger number feel they should be legal.
The VTsIOM poll was held in mid-April; it embraced 1,600 people in 138 towns and 46 regions of Russia. The statistical margin of error is 3.4 per cent.
Several Russian regions introduced in recent years legislation imposing fines for the promotion of gay, lesbian, bisexual and transgender lifestyles to minors.
The scandal broke out anew when St. Petersburg's legislative assembly passed in March a law banning propaganda of LGBT relations and pedophilia to minors.
Foreign and Russian LGBT activists criticized the ban and called for boycotting travel to St. Petersburg, a popular tourist destination visited by five million people in 2010.