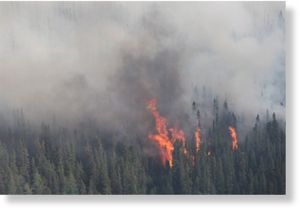 Canada: Timmins, Ontario - A raging forest fire that's spewing smoke and ash toward Timmins has jumped Highway 144 southwest of the northern Ontario city.
And fire crews report a new fire on Highway 101 southwest of Timmins has forced the evacuation of the Old Mill campground.
The city of 43,000 is under a state of emergency and officials are on high alert.
Mayor Tom Laughren says more than 225 people have been evacuated from rural communities including Hydro Bay, Kamiskotia Highway and Cooks Lake.
Many have sought shelter with the Red Cross, while others are staying with friends or family.
That's in addition to an evacuation order for the nearby Mattagami First Nation that saw 118 residents relocate to Kapuskasing.
"I think the next 48 to 72 hours, from a fire perspective, as it relates to Timmins, will be critical," the mayor said Friday.
Laughren said he hopes the skies will clear up enough to allow water bombers to take on the flames.
Premier Dalton McGuinty praised firefighters, emergency workers, leaders and volunteers for their work throughout the region. He paid a visit Thursday to Kirkland Lake, where crews have largely contained a massive forest fire that had been threatening the town.
On Friday, McGuinty expressed his admiration for those in northern communities like Kirkland Lake and Timmins, where his mother is from.
"A number of people have already been evacuated and about 90 per cent of those .... have not called upon the provincial government or the municipality to help them with their accommodation costs. They've gone to friends and family," McGuinty said in Thunder Bay.
"That is a wonderful tribute to people in the north," he said.
"There is a determination, a resilience, a commitment, a grit, a drive to find success and to keep moving forward not withstanding any challenges, that is nothing short of remarkable. And I see that in the way folks pull together."
Kirkland Lake, about 140 kilometres southeast of Timmins, remained on high evacuation alert Friday. The community of almost 10,000 was dealing with high winds gusting up to 50 kilometres per hour.
Kirkland Lake schools were closed as a precautionary measure and municipal officials set up a $100,000 fund in case an evacuation is necessary.
The Ministry of the Attorney General closed the Kirkland Lake courthouse on Friday and it will remain closed until it's deemed safe to resume court services.
Ontario Court of Justice hearings scheduled for the Kirkland Lake courthouse are being transferred to the Haileybury courthouse.
Natural Resources spokeswoman Heather Pridham said firefighters are keeping close watch on the Kirkland Lake situation, particularly in areas along the east and west flanks of the fire.
"The fire rangers and the helicopters are going to go back in today and just keep working on those hot spots," she said Friday.
Ontario's New Democrats have put their annual Northern Council conference - scheduled for this weekend in Timmins - on hold in light of the emergency.
"We'll make sure that northerners get all the assistance you need, now and when the smoke clears," NDP Leader Andrea Horwath said in a statement.
The fire roughly 30 kilometres outside Timmins has also forced the closure of a gold mine operated by Lake Shore Gold Corp.
The Ministry of Natural Resources said high winds were fuelling the flames and there were concerns that strong winds could push significant smoke and ash into the community. The ministry was estimating the size of the Timmins fire at about 31,660 hectares.
No relief from extreme burning conditions was expected in the northeast of the province until at least Sunday, the ministry said.
Fifteen water bombers, four Twin Otter aircraft and 56 helicopters are currently battling dozens of fires in the province. About 1,300 people are working on the situation, including 102 from outside Ontario.
Source: CJKL