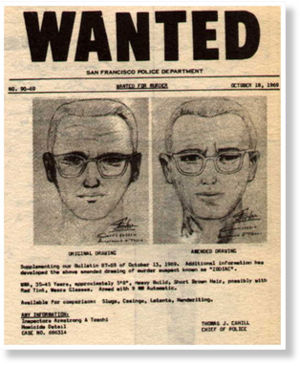 A new book claims that the infamous Zodiac killer is still alive and living in Northern California.
The Zodiac Killer Cover Up
was written
by a former California Highway Patrol officer, Lyndon Lafferty, and adds another theory to the much-discussed serial killer case in Northern California.
The Zodiac killer is blamed for at least five slayings in 1968 and 1969. There was never an arrest in the case.
Three killings occurred in Vallejo. Teenagers David Farraday and Betty Lou Jensen were shot to death in December 1968. Darlene Ferrin, 22, was shot and killed seven months later at Blue Rock Springs Golf Club. Her companion, Michael Mageau, 19, survived.
In
The Zodiac Killer Cover Up
, Lafferty claims the killer is now a 91-year-old man living in Solano County. The book uses aliases and does not identify the alleged killer by name. Lafferty claims he and other lawmen investigated the suspect in the early 1970s but were stymied by "power brokers" in Solano County.
According to the
San Francisco Chronicle
,
the book has stirred
new debate among those who have followed the famous killings.
The San Francisco police
formally closed the case in 2004.
The Zodiac killer got his name by taunting newspapers and the police with letters and puzzles.
"The police shall never catch me, because I have been too clever for them," he wrote in a letter sent to the
San Francisco Chronicle
.
"I enjoy needling the blue pigs," he wrote. Detectives thought they might have had a break two years ago, when a partial DNA profile was taken from envelopes containing the letters.
The genetic evidence seemed to clear the only suspect ever named by police -- Arthur Leigh Allen of Vallejo. Allen, who was never charged, died of a heart attack in 1992.