A tornado touched down in a small Southeast Texas town, damaging a hospital, derailing 25 cars of a freight train and injuring eight people in a high school parking lot.
The National Weather Service said the EF-1 tornado briefly touched down at Weimar High School, 506 West Main Street, at about 5:25 p.m.
"When I looked out the window, branches were snapping and I knew right away, this was a tornado coming," witness Levi Adame said.
A fundraiser was taking place at the school at the time of the storm and a Papa John's pizza trailer that was in the school parking lot as part of the event was toppled over. There were eight people inside the truck who had to be taken to the hospital. Most of their injuries were not serious and many of them have since been released from the hospital.
Ricky Ramirez was standing next to the pizza trailer.
"Just a few seconds later, the whole trailer flipped over," Ramirez said. "(I got) pretty bruised up. My hips hurt. My shoulders hurt. I guess I was just hanging on hoping it wouldn't suck me out of the vehicle."
Even though many student-athletes were still on campus, no students were injured.
"Our coach realized what was going on and grabbed us all. She stuck us in a closet to keep us safe," student Payton Wunderlich said.
"Our coach told us to all get to the bathroom, which was in the center part of the building," student Shelby Wunderlich said.
A scoreboard at the high school was damaged. School officials said part of the roof was ripped off and the football and softball fields sustained the most damage.
School was canceled for Friday. Officials plan to reopen it on Monday.
The storm winds also toppled 40 cars of a Union Pacific freight train. Union Pacific spokeswoman Raquel Espinoza says none of the crew was injured.
A tornado peeled back the roof of Colorado-Fayette Medical Center, 400 Youens Drive. No injuries were reported there, but 10 patients were transferred to Columbus Community Hospital or discharged.
Gordon Richter lives a few blocks from the hospital. He took cover with his five grandchildren.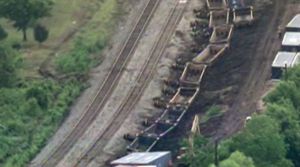 "It was scary, yes, it was scary," Richter said. "We were crammed into the hall just hanging on."
Weimar, a town of about 2,200 residents, is about 88 miles west of downtown Houston.
Storms moved into the Houston area early Friday morning, but no damage was reported.
The National Weather Service issued a flash flood watch beginning at 1 a.m. Friday and continuing into Friday afternoon.
A strong area of low pressure in West Texas will migrate across the state through Saturday, bringing us our best chance for rain in Houston since mid-April.
Expect between 2 and 5 inches of rain in isolated areas by the time all is said and done with the storms. More are expected Friday afternoon and evening. Some of the stronger storms will likely produce rain at 1 to 2 inches per hour.
The heavy rain can cause flash flooding, especially along feeder roads and areas where storm drains may be restricted by leaves, branches or trash. If you are driving and approach a flooded roadway, do not try to pass through it. Turn around and find another route.
By Friday night and Saturday, our rain threat will shift from strong thunderstorms to scattered showers. The rain should be gone entirely by Mother's Day.