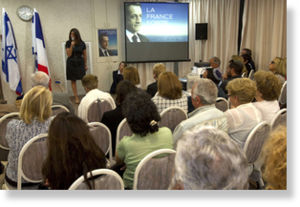 French president, which is facing electoral battle, urges dual nationals living in Israel to vote en masse in second round of presidential elections
With only a week left to the second round of the presidential elections in France, French President Nicolas Sarkozy is trying everything to close the gap between him and Socialist Party frontrunner Francois Hollande.
The first round has give Hollande an 8% lead.
Sarkozy has reportedly appealed in a letter to dual French-Israeli citizens, urging them to exercise their voting right in the second round, set to be held on Sunday.
"I need your support and your loyalty. I ask for your (voter) turnout, even more than you have managed to do in the first round," the president wrote to French voters registered in Israel.
Former French cultural attaché in Israel Valerie Hoffenber read the letter to what has been described as "an enthusiastic crowd of Sarkozy supporters" in Netanya, which has a large francophone community.
Some 200 people attended the conference.
"Nicolas Sarkozy is the only choice... We will prove the polls wrong and we will win," Hoffenber told the crowd.