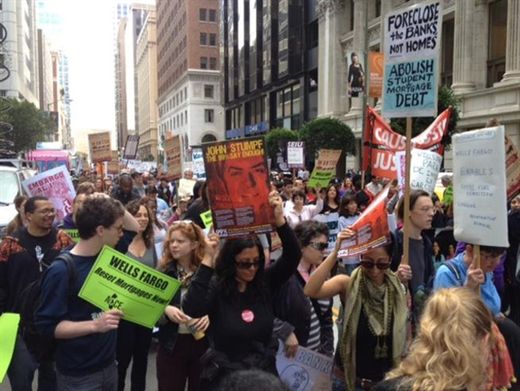 Several hundred protesters marched to Wells Fargo Bank headquarters in San Francisco Tuesday planning to disrupt the company's annual shareholder meeting, and police took positions around the building, NBC Bay area reported on Tuesday.
"A tax dodger and predatory lender, Wells Fargo Bank has corrupted democracy by quadrupling spending on lobbying since they helped cause the financial crisis," according to the web site for Occupy Wall Street, which advertised the event.
The demonstration is part of the rebirth of the Occupy movement this spring after many protesters took a hiatus for the winter.
Police were stationed around the Merchant's Exchange Building in the financial district in advance of the 1 p.m. meeting, The Associated Press reported. Bank stockholders were asked to show certificates or other proof of ownership before being shepherded through the gates, AP said.
The Occupy Wall Street web site lays out complaints against Wells Fargo, calling it "America's biggest tax dodger" and blasting its continued foreclosures "on families in an economy it helped to ruin."
Wells Fargo is also corrupting U.S. democracy, according to the site, "protecting its profits by quadrupling spending on lobbying since the financial crisis began," and "profiting from increased incarceration by investing heavily in for-profit prison corporations and anti-immigrant legislation."
The Occupy movement has staged numerous past protests against Wells Fargo. In February protesters delivered a mock foreclosure notice to the Russian Hill home of Wells Fargo CEO John Stumpf. In Minneapolis in November, they turned up to protest Stumpf when he was scheduled for a speaking event.
Stumpf told the crowd in the Minnesota city that he "gets" the frustration of the anti-Wall Street movement, according to a report in the
Minneapolis Star Tribune
and called for unity of the political parties, as well as "the 1 percent and the 99 percent" to get through economic hard times.
Wells Fargo did not immediately return calls from msnbc.com seeking comment.
However, the company issued a statement in reaction to the protest, NBC Bay Area reported:
"Wells Fargo has helped more than 740,000 customers with loan modifications, and has forgiven $4.1 billion in principal since 2009," it said. "The unfortunate reality is that some customers are in homes they cannot afford, even with substantially reduced payments. ... When people are 60 days or longer past due, and they decide to work with us, we are able to provide an option that prevents foreclosure for 7 out of 10. Over the past year, less than 2 percent of owner-occupied loans in our servicing portfolio have resulted in foreclosures."
According to the bank's web site, Wells Fargo ranked fourth-largest among U.S. banks in terms of assets -- $1.3 trillion -- and first in market value of its stock as of Dec. 31.