The allegations have inflamed dinner-table talk across France: a lurid tabloid tale of sex, murder, politics and corruption and, if the saga is to be believed, there could be a whole lot more to come.
The ingredients are said to include cocaine-fuelled orgies with underage call girls, prostitutes who turned tricks with robed magistrates inside a courthouse, sado-masochistic sessions secretly filmed by a transvestite blackmailer, and a string of murders by a psychopathic strangler.
Those who took part in the kinky sex, or helped to cover up the slayings, are supposed to have
included local policemen, judges and public prosecutors, as well as a former mayor who is France's television censor and a powerful figure in President Jacques Chirac's party.
At the centre of this story is the enigmatic figure of Patrice Alegre, a 34-year-old pimp, former discotheque bouncer and drug abuser, who was jailed for life last year for the rape-slaying of five women and the rape of a sixth. The steel-eyed, remorseless killer has since admitted to two additional murders, but it is believed he may have carried out many more.
None of this is to the liking of tourism bosses in Toulouse, who prefer images of the snowcapped peaks of the nearby Pyrenees and the pink, sun-kissed buildings that give France's fourth-largest city its nickname of "la ville rose".
Yet they and the spin doctors can try as hard as they can - "L'affaire Alegre" has become like the Tramontane, a wind that haunts Toulouse and is notorious for rattling nerves and kicking up the dirt.
And this has become more than a case of local sleaze. A media frenzy, growing by the day, has caused some to speculate that France is about to uncover a potentially darker and more explosive affair than any in its recent past. Others dismiss it as unfounded gossip, while many are so confused they do not know what to think.
"The Alegre soap opera has become a judicial rodeo with politics and sex for a background. Until now, we thought only the Anglo-Saxons were capable of something like this," the daily
Le Parisien
commented.
At the heart of the story is the allegation that Alegre headed a vice ring that not only enjoyed the protection of the judiciary and the police, but included them among its clients. When Alegre went on his killing spree, according to the accusation, investigators declared the deaths to be either suicides or insoluble.
The main sources for this are two ex-prostitutes, "Fanny" and "Patricia", who have already testified several times to examining magistrates but in April began leaking their evidence to the press, apparently in disgust at the wall of secrecy surrounding the case.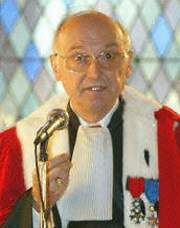 Patricia, 32, identified judges and lawyers, dressed in legal gowns, with whom she had paid sex at the municipal courthouse. And she described wild, sado-masochistic orgies where party-goers greedily consumed cocaine, sometimes using a disused chateau owned by the council's social services depart. She says she went into hiding in 1992 after witnessing Alegre kill two girls he had recruited.
Fanny, now 30, was 17 when Alegre, working in the police station canteen at the time, forced her into prostitution. She says she also witnessed the second murder. She cautiously broke her silence in 2001 to a special homicide squad investigating a rash of disappearances of girls in the Toulouse area.
The principal target in the allegations is veteran politician Dominique Baudis, who was mayor of Toulouse from 1983 to 2001. A powerful figure in Chirac's UMP party, he is now head of France's TV and radio watchdog, the Conseil Superieur de l'Audiovisuel (CSA).
According to the two prostitutes, Baudis had a sexual relationship with Alegre and paid for sado-masochistic sex at a hotel and Toulouse flat, including one three-hour "torture" session that allegedly left Patricia with scars.
They add that some of these sessions were filmed with a hidden camera by a 48-year-old male transvestite, Claude Martinez, who was planning to blackmail the officials with the evidence. Baudis, they say, was so angered by this that he told Alegre to get rid of Martinez. His body, riddled with 25 stab wounds, was found in February 1992.
The accusations would probably have sunk without trace had it not been for Alegre himself. In a sensational letter to the TV channel Canal Plus, Alegre said the ex-prostitutes were telling the truth.
"Members of the Toulouse elite were at these parties. Everyone would take cocaine, trying to outdo each other. Some parties went off the rails."
Alegre also admitted to killing Martinez, as well as a female prostitute, Line Galbardi, who was a police informant, also in 1992. He said the killings had been ordered by powerful local figures.
Baudis denies the allegations and characterises them as "an outrageous frame-up". He says the culprit is France's pornography industry, which is retaliating for restrictions he imposed on showing X-rated material on national television. And he accuses a local newspaper baron, Jean-Michel Baylet, with whom he fell out in 1986 while mayor, of abetting the plot by making dark insinuations of wrongdoing in his editorial pages.
In a highly unusual move, Baudis is trying to clear his name by asking to be placed under formal investigation - a move that means his lawyer will gain access to the evidence against him.
"It is unacceptable that a man's honour can be impugned by the words of a murderer serving a life sentence and of two prostitutes," Baudis says. "I am going to confront the slander head-on, look it in the eye and grab it by the throat."
Three other Toulouse bigwigs are named as having taken part in the orgies: public prosecutor Jean Volff, his deputy, Jean-Jacques Ignacio, and judge Marc Bourrague. All deny the allegations, although one, Bourrague, has admitted that he once had a drink with Alegre "by chance".
Volff described the prostitutes' story as "totally implausible", but even so he resigned last month. Justice Minister Dominique Perben says he wants to appoint someone "with a fresh eye, who will hide at nothing, who will leave no stone unturned".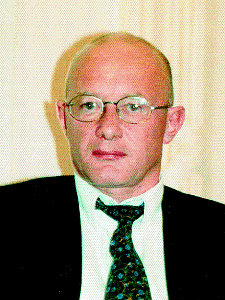 Alegre, by any standards, is a vile creature. Intelligent and charming, but also selfish and manipulative, ill-treated by his former policeman father, he is a classic case of a psychopathic killer, says criminal psychologist Stephane Bourgoin.
His first known murder was in 1989, when 21-year-old Valerie Tariote was found dead in her Toulouse flat with a scarf stuffed down her throat. Eight years and numerous murders later, he was turned in by a student who had been raped by him but persuaded him to stop as he tried to strangle her. As police clumsily moved in, Alegre went on the run, fleeing the home he shared with his girlfriend and daughter. In September 1997 he managed a final murder - torturing, raping and killing a woman who befriended him.
"She was shy, kind, smiled a lot," he said later. "I was excited. I wasn't in control of myself." He kept silent during his trial, despite an appeal from his daughter to explain his motives for the sake of bereaved relatives.
Prosecutors called him an "abominable monster" who had displayed "barbaric cruelty". He was jailed for life in February last year, with a recommendation that he serve at least 22 years.
"This criminal is a sexual sadist who takes pleasure from killing and beating," says Bourgoin. "He gets a kick from the notion of power. If he's starting to speak out today, it's an attempt to regain the upper hand."

Comment: Here's a more plausible scenario: Alegre ratted out fellow psychopaths in the Toulouse elite because, as a psychopath, if he must go down, he'll take others with him.


Even if no one trusts Alegre, there is plenty of mileage in a story that suggests there is deep muck in France's judiciary, police and local government.
Distrust about these institutions runs deep, and the terrifying numbers of unsolved cases in the Toulouse area -
115 girls and women who went missing from 1992 to 1997
- is drawing parallels with Belgium's Dutroux case, where bungling by police investigating a notorious paedophile and murderer provoked public outrage.
Alegre may have many other bombshells to hurl from his cell - and the shockwave may reverberate from Toulouse all the way up to Paris.