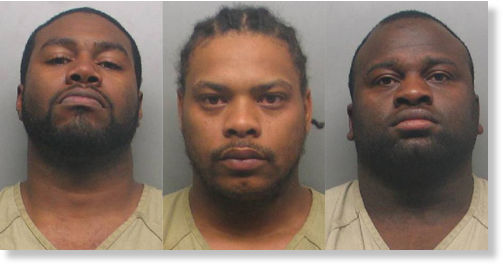 US - Two men with Army ties _ including an active-duty sergeant _ sought to work with a Mexican drug cartel in a murder-for-hire scheme in which they would kill rival gang members and recover stolen cocaine for $50,000 and drugs, according to a federal criminal complaint.
Sgt. Samuel Walker, 28, and former Lt. Kevin Corley, 29, believed they were meeting with members of the Zetas drug cartel last weekend in Texas, according to the U.S. Department of Justice. Instead, they were dealing with undercover federal agents who arrested the men along with another man, Shavar Davis, on Saturday in Laredo. A third suspect, Corley's cousin Jerome Corley, was fatally shot during the arrests.
Kevin Corley also is accused of selling military-grade weapons to the agents and offering to train cartel members.
Walker is stationed at Fort Carson in Colorado, and Kevin Corley was stationed at the post before he was discharged from the Army two weeks ago.
Investigators said the three men, along with Shavar Davis, were meeting Saturday with undercover agents posing as members of the Zetas to discuss details of the murder-for-hire scheme. After agreeing on payment, federal agents moved in. Kevin Corley, Walker and Davis were arrested, while Jerome Corley was shot several times. He died at a local hospital.
No attorneys were listed for the three men in court documents Monday, and it wasn't clear where they were being held. The men weren't at the jail in Laredo as of Monday. The men are facing drug, weapons and conspiracy charges.
Four other suspects also were arrested in connection to the case in Texas and South Carolina.
Kevin Corley's mother declined comment, and other relatives did not return phone messages Monday. His girlfriend declined comment except to say she hadn't spoken to Corley, who played football for two seasons at South Carolina State University, since his arrest.
His uncle, Robert Corley Jr., called his nephew "as good a kid as you want to be around," but said he didn't know anything about the criminal allegations.
Robert Corley's son, Mario Corley, also was arrested in connection to case in South Carolina, along with two other men charged with marijuana trafficking. "He didn't have any drugs on him," Robert Corley Jr. said of his son. "I don't understand it."
According to the federal complaint, Kevin Corley told undercover agents they could have 40 cartel members trained in two weeks and that several members of his Army unit expressed interest in helping.
The criminal complaint alleges that Corley sold the agents a ballistic vest that was allegedly stolen from another soldier, Army training manuals and other equipment for $6,000. He later sold two AR-15 assault rifles and several ballistic vests to undercover agents for $10,000, according to court documents.
Fort Carson officials said the Army does not use AR-15 rifles.
Kevin Corley was discharged from the Army on March 13, according to the Army Human Resources Command. Fort Carson officials said Walker is on active duty, and that both men were assigned to the 4th Brigade Combat Team, part of the 4th Infantry Division.
Fort Carson didn't know the circumstances of Corley's discharge, and the Army Human Resources Command declined to provide details. The 4th Brigade began deploying to Afghanistan in mid-February, though it wasn't immediately known whether Walker or Corley had been expected to be part of that deployment.
Source: The Associated Press