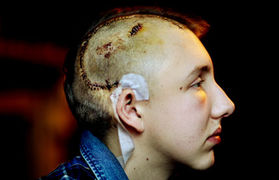 Alfie Meadows, who had brain surgery after anti-fees demonstration, claims he was struck by police truncheon
A philosophy student who claimed he suffered head injuries from a police baton during the anti-fees protest in London faces trial on Monday for violent disorder at the demonstration.
Supporters of Alfie Meadows, 21, who
underwent emergency surgery for his injuries
, have vowed to demonstrate outside Kingston crown court, in Surrey, against what they say is an attempt to silence legitimate protest by pursuing the victim of an assault rather than investigating any police who allegedly carried it out.
Meadows had brain surgery after the anti-fees demonstration in December 2010 when he said he was struck over the head with a police truncheon. He was one of 44 people, including six police officers, treated in hospital after rioting broke out at the demonstration over student fees.
Meadows, who was a second-year student at Middlesex University at the time, says he was injured as he attempted to leave an area where protesters were being kettled by the police.
The Independent Police Complaints Commission mounted an inquiry "following an allegation that a 20-year-old received serious head injuries after being hit on the head with a police truncheon during the student protests in London".
Meadows was charged in April last year with violent disorder in connection with the demonstration. He is pleading not guilty and will be represented in court on Monday by Michael Mansfield QC.
Liam Burns, president of the National Union of Students, is one of those challenging the decision to charge him. "The charges against Alfie must be dropped and an urgent investigation into his assault launched," said Burns. "Students across the UK today will be saying 'we are all Alfie Meadows'."
Meadows's mother, Susan, an English literature lecturer at Roehampton University, and his father, Matthew, a writer and artist, have said they feel the alleged behaviour of the Metropolitan police was disturbing.
Meadows is facing trial along with a number of other students. The details of the charge against him are that on 9 December 2010 he used or threatened unlawful violence when present together with others ... and the conduct of them all was such as would cause a person of reasonable firmness present at the scene to fear for his personal safety.
His mother said shortly after the demonstration that her son had suffered bleeding to the brain as a result of the blow to his head. He underwent a three-hour operation at Chelsea and Westminster hospital.
Matt Foot, a lawyer who has represented many students involved in the protest, said: "Alfie Meadows is one of a large number of young student protesters of good character charged with violent disorder. This seems to be a blanket policy by the police and prosecution to deal with protesters with one of the most serious offences available."
The IPCC said its investigation into the allegation that Meadows had been struck over the head by a police baton had been suspended at the request of the student's legal team last August because of the criminal proceedings against him.
The inquiry - which was an independent investigation - was one of several carried out by the police watchdog in the aftermath of the anti-fees protest.
In one case related to the anti-fees protest the IPCC has sent a file of evidence to the Crown Prosecution Service following an investigation into allegations that three Met police officers conspired to wrongly arrest a 20-year-old man and that one of them also assaulted him.
No decision on charges has been made to date.