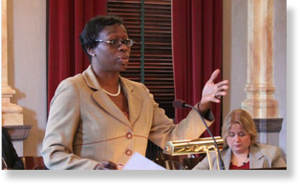 US - An Ohio state senior is using her frustration with state-level pushes to restrict women's access to reproductive health services, such as limiting coverage in their insurance plans, to flip the script with a new bill that would require men to take certain steps before obtaining a prescription to Viagra.
According to The Dayton Daily News
, State Sen. Nina Turner introduced a bill last week that would force any male to undergo sex therapy, receive a cardiac stress test and get a notarized affidavit signed by a sexual partner affirming impotency in order to get a prescription for any erectile dysfunction drug.
Turner's bill was a direct response to the "Heartbeat bill"
introduced in the Ohio House by Republican Lynn Wachtmann
, which would prohibit abortion once a heartbeat is detected, as early as six weeks into a pregnancy.
"If we are going to be in the business as policy makers of regulating sexual health or medical health, then we should do it across the board," Turner
told Bloomberg News
. "We should be equal opportunity in that."
Turner expressed how her bill adheres to already existing federal guidelines.
"Even the FDA recommends that doctors make sure that assessments are taken that target the nature of the symptoms, whether it's physical or psychological," she said. "I certainly want to stand up for men's health and take this seriously and legislate it the same way mostly men say they want to legislate a woman's womb."