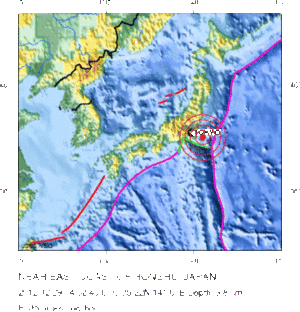 It's been almost one year since the Tohoku earthquake and tsunami devasted eastern Japan, but major aftershocks continue to occur. The original "undersea megathrust" quake just off Japan's coastline on March 11, 2011, was a magnitude 9.0, one of the worst ever recorded.
At about 8:30 a.m. today, Central time, a magnitude 5.7 quake ocurred near the island of Honshu, 77 miles east southeast of Tokyo , according to the U.S. Geological Survey. The Geological Survey's PAGER earthquake risk site indicates this most recent tembler may have been perceived as moderate shaking by 962,000 people in Japan, and may have caused some moderate damage to vulnerable buildings.
The 201 earthquake caused a tsunami that produced waves as high as 133 feet in the coastal city of Miyako, north of Tokyo, and damaged several nuclear power plants, including the Fukushima Dai Ichi reactors, which experienced fuel meltdowns that resulted in the release of radiation.
There have been hundreds of earthquakes near Japan's Honshu Island since 1990, and 44 quakes in the Japan area since Feb. 1.