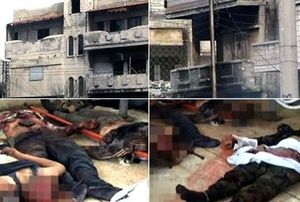 Terrorist groups continued armed attacks in Homs, Idleb and Damascus countryside targeting civilians and military personnel, and shelled residential areas with mortar shells and vandalized public and private facilities, not sparing even mosques to which citizens turned for protection.
The terrorist groups on Monday attacked citizens and law-enforcement members at several areas in Homs, and the authorities have been pursuing and clashing with them.
An armed terrorist group exploded two explosive devices behind the building of the Technical Services at al-Dablan Neighborhood in Homs.
The terrorists also shelled with mortars several neighborhoods of Homs. They also set off an exploive device in al-Khalidiye neighborhood that caused no injuries or casualties.
A number of citizens escaped from an armed terrorist group to a Mosque in Rastan City where the armed terrorist group burnt the Mosque killing and injuring some of the citizens.
In the same context, the guards of a food car clashed with an armed terrorist group which attacked the car at al-Waer neighborhood in Homs governorate and killed some of its members.
The clash resulted in the martyrdom of Conscript Ali Abdel Qader al-Dalati.
A citizen was shot in the head while he was on his way to work in Homs, while gunman are terrorizing civilians in al-Waer neighborhood in the city.
Armed Terrorist Groups Attack Oil Pipelines in Homs
An armed terrorist group launched a sabotage attack against an oil transport pipeline at al-Sultaniyeh area near Jober at Baba Amr Neighborhood in Homs setting ablaze the site of the explosion.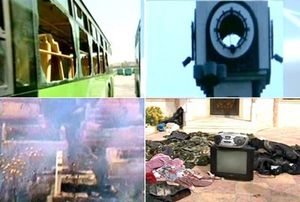 Meanwhile, another armed terrorist group targets an oil pipeline at Jober area in Homs Province which transports oil to Tartous Oil Outlet.
An official source at the Ministry of Petroleum said that the Syrian Company for Crude Oil is exerting efforts to deal with the situation in collaboration with the concerned authorities.
Earlier on Sunday, An armed terrorist group blew up a gas pipeline with an explosive device near Talbeiseh in Homs, causing the leak of huge amounts of gas at the site.
The armed terrorist groups targeted several times oil, gas and oil derivatives pipelines blowing them up with explosive devices. The armed groups targeted the oil pipelines south of al-Qurieh town in Deir Ezzor, and the diesel pipeline extending from Homs to Hama and Idleb between Moussa al-Houleh and Tals towns.
The armed groups also targeted the gas pipeline in the Central area near al-Rastan city which feeds al-Zara and Zizoun Electricity Generation Stations last December.
Armed Terrorist Group Attacks a Number of Public and Private Buildings in al-Zabadani at Damascus Countryside
Another armed terrorist group attacked a number of public and private buildings in al-Zabadani at Damascus Countryside. The armed groups prevented the citizens from going to their jobs.
SANA correspondent was informed that the authorities are pursuing the terrorists in order to arrest them.
A Worker Martyred and 6 Others Injured in Homs, Three Law-Enforcement Members Martyred at Jabal al-Zawiya Mountain
A worker was martyred and six others injured by terrorist group gunfire against a bus carrying workers of al-Walid Spinning Company in Homs.
A source at Homs Governorate told SANA correspondent that the armed terrorist group targeted the bus near the National Hospital causing the martyrdom of driver Mahmoud Qassem and the injury of six others.
SANA correspondent quoted some inhabitants as saying that the armed terrorist groups booby-trapped several buildings after their inhabitants have deserted them at al-Inshaat, Neighborhood in Homs and exploded them.
They added that the terrorist groups also booby-trapped Nazihin and Ashireh Neighborhoods in preparation to explode them, in addition to burning car tires over the roofs of the houses in a number of neighborhoods to give the impression that the army is shelling them.
Three officers were martyred by the gunfire of an armed terrorist group after attacking a military barrier in Barzet al-Barah at al-Zawiya Mountain as the armed group Kidnapped a number of military members.
A Number of Terrorists Killed and Injured in Idleb, Others Killed while Preparing Explosives in Homs
Earlier, the competent authorities confronted an armed terrorist group which attacked the law-enforcement forces at the Municipality building and the government headquarters in Idleb.
SANA Reporter was informed that the clash caused the killing and injuring of a number of terrorists, in addition to causing the injury of a number of members of the competent authorities and the law-enforcement forces.
A Number of gunmen were killed at al-Khaldiyeh Neighborhood in Homs while they were preparing explosive devices at a house in the neighborhood.
Authorities Kill Terrorists, Arrest others, Seize Weapons and Explosive Devices in Damascus Countryside
Authorities stormed the hideouts of the armed terrorist groups in Douma fields in Damascus Countryside, killed few gunmen and arrested few others.
Official source told SANA correspondent that the authorities also seized explosive devices, Thuraya satellite phones and different kinds of weapons, some of which are Israeli-made, in addition to military uniforms to be used in camouflaging and assaulting the army.
Maps of plans to attack state and private institutions, medical equipment and stolen cars were also seized.
Terrorists Murder Two Citizens in Idleb
An armed terrorist group assassinated Maher Mawqe , an instructor of nationalism education at Idleb Education Directorate.
A source at the governorate told SANA's correspondent that an armed terrorist group opened fire on the instructor while he was on his way out from his workplace at Hananow Square in Idleb.
Another armed terrorist group shot and killed the head of the Arab Cultural Center in Idleb, Ahmad al-Masri.
Earlier, armed terrorist groups broke into some houses in the governorate.
An armed terrorist group attacked a military checkpoint in Maaret al-No'aman and a clash ensued, during which the terrorists Taher al-Shuhneh and Fadi Zambalakji were killed.
A retired military personnel, Hussein Ahmad al-Aswad, was shot dead by an armed terrorist group in the city.
In Idleb, an exchange of fire took place between an armed terrorist group and police forces, causing martyrdom of policemen Ahmad Saleh Ajaj and inuring policemen Omar al-Ojeil. The clash left a number of terrorists killed and others injured.