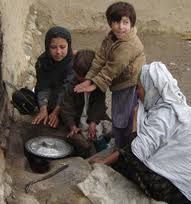 More than 20 children have recently died due to the cold weather in Kabul which the Afghan capital has been experiencing its worst cold-snap and heaviest snows in at least 15 years, the National Weather Center said Wednesday. According to an Afghan based TV channel, some of the internally displaced people of the country warn that cold weather may claim more lives. Lack of food and firewood is said to be their main problems in the winter.
This year's severe cold weather has raised concerns among the Afghan population, especially the displaced families. "In this winter, eight children, three old men and women have so far lost their lives," one of the displaced people said. "We cannot pass the winter by burning plastic, paper and pieces of clothes. We really need help.""Living under these tents is very difficult," said another displaced person. "Life is difficult when you don't have anything to eat or burn."The families living under the tents in Kabul are badly in need of help and most of them may perish if not helped."We ask everyone to help these needy families, they can help one family and protect them from cold weather," Head of the Afghan Red Crescent, Fatima Gilani said.
The Afghan Ministry of Refugees and Returnees rejects reports about the death of 20 children due to severe cold in Kabul, a spokesman for the Ministry, Salamuddin Jurat said on Tuesday.The refugees living under the tents have not faced any kinds of losses so far, he added. "The reports are baseless and untrue," the spokesman said.Meanwhile, the Afghan Ministry of Public Health confirms the deaths due to the severe cold in Kabul."Because the cold weather was unprecedented and they were living under the tents, they died before arriving to our health facility during last month," Spokesman for the Ministry of Public Health, Ghulam Sakhi Kargar told the channel.
There are currently more than 30,000 poor families living under tents in Kabul. There reports of high level of maternity deaths in these camps with 144 out of 1,000 children under five years of age.This comes as the recent avalanches in Badakhshan province claimed lives of more than 40 people.Several houses have reportedly been destroyed in these avalanches. Several routes in Badakhshan, Ghor and Daikundi provinces have been closed due to heavy snow falls.
.