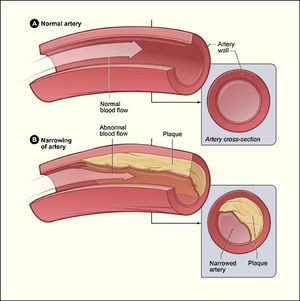 Never saw a headline like this? Neither have I. That's because it doesn't happen.
Cholesterol doesn't harm, maim, or kill. It is simply used as a crude - very crude - marker. It is, in reality, a component of the body, of the cell wall, of lipoproteins (lipid-carrying proteins) in the bloodstream. It is used a an indirect gauge, a "dipstick," for lipoproteins in the blood to those who don't understand how to identify, characterize, and quantify actual lipoproteins in the blood.
Cholesterol itself never killed anybody, any more than a bad paint job on your car could cause a fatal car accident.
What kills people is rupture of atherosclerotic plaque in the coronary arteries. For all practical purposes, you must have atherosclerotic plaque in order for it to rupture (much like a volcano erupts and spews lava). It's not about cholesterol; it's about atherosclerotic plaque. Plaque might contain cholesterol, but cholesterol is not the thing itself that causes heart attack and death.
So why do most people obsess about cholesterol? Good question. It is, at best, a statistical marker for the possibility of having atherosclerotic plaque that ruptures. High cholesterol = higher risk for heart attack, low cholesterol = lower risk for heart attack.
But the association is weak and flawed, such that people with high cholesterol can live a lifetime without heart attack, people with low cholesterol can die at age 43
.The same holds true for LDL cholesterol, you know, the calculated value based on flawed assumptions about LDL's relationship to total cholesterol, HDL cholesterol, and VLDL cholesterol.
A crucial oversight in the world of cholesterol: There are many other factors that cause atherosclerotic plaque and its rupture, such as inflammatory phenomena, calcium deposition, artery spasm, hemorrhage within the plaque itself, degradative enzymes, etc., none of which are suggested by cholesterol measures.
But one observation has held up, time and again, over the past 40 years of observations on coronary disease: The greater the quantity of coronary atherosclerotic plaque, the greater the risk of atherosclerotic plaque rupture. An increasing burden of atherosclerotic plaque along the limited confines of coronary arteries, just a few millimeters in diameter and a few centimeters in length, is like a house of cards: It's bound to topple sooner or later, and the bigger it gets, the less stable it becomes.
If you are concerned about future potential for heart disease and heart attack, don't get a cholesterol panel. Get a measure of coronary atherosclerotic plaque.