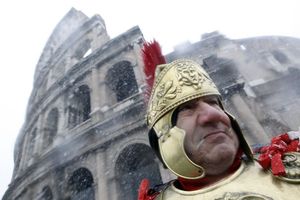 Russia and Ukraine took extra precautions on Friday to protect homeless people during a brutal cold snap, ordering new facilities and medical care after scores of people have frozen to death on the streets of Europe.
As the death toll from the past week rose to at least 175 on Friday, Russian Emergencies Minister Sergei Shoigu ordered the creation of facilities nationwide to feed and provide medical assistance to the homeless.
The week-long freeze - Eastern Europe's worst in decades - is causing power outages, frozen water pipes and widespread closure of schools, nurseries, airports and bus routes.
Other parts of Europe experienced frigid temperatures unseen in years. A roundup:
Ukraine
In the hardest-hit country, health officials have told hospitals to stop discharging the hundreds of homeless patients after they are treated for hypothermia and frostbite. The goal is to prevent them from dying once they are released into temperatures as low as minus 32 Celsius (minus 26 Fahrenheit).
Authorities also have set up nearly 3,000 heating and food shelters.
Thirty-eight more fatalities were reported from frostbite and hypothermia in Ukraine on Friday, raising the nation's death toll to 101. Emergency officials have said many of the victims were homeless.
Bosnia
Bosnia reported its first deaths. Five people died Friday in Sarajevo, most of them while shoveling snow, Dr. Tigran Elezovic said, and one person died in the southern city of Mostar, where ambulances could not reach the victim because of snow.
Rome
Thick snowflakes fell on Rome on Friday, forcing the closure of the Colosseum over fears tourists would slip on the icy ruins, and leaving buses struggling to climb the city's slushy hills.
The snowfall prompted authorities to stop visitors from entering the Colosseum, the adjacent Roman Forum and the Palatine Hill, the former home of Rome's ancient emperors.
Authorities appealed to Italians to stay off highways, as the cold snap was predicted to continue well into the next week.
Northern Italy also has been gripped by snow and ice that is disrupting train travel.
Netherlands
Police in the eastern city of Wageningen reported that a homeless man found dead Thursday in a shed died of hypothermia, making him the first confirmed Dutch victim of the cold.
Traffic around the Netherlands was thrown into chaos Friday by snow. Trains ran with long delays and several flights in and out of Schiphol were delayed or canceled.
Poland
The Interior Ministry recorded eight more deaths on Friday and said two other people died of asphyxiation from carbon monoxide-spewing charcoal heaters.
Croatia and Montenegro
In Croatia, some highways were closed and waters of the Adriatic Sea froze in some areas. Buses that travel from Zagreb, the capital, toward the coast have been canceled. In Montenegro, the airport in the capital, Podgorica, was closed due to heavy snow.
This article includes reporting from Reuters and The Associated Press.