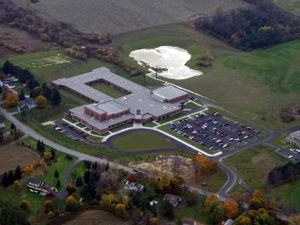 Environmental activist Erin Brockovich has launched her own investigation into the mysterious illness causing facial tics and verbal outbursts among 15 teenagers in Le Roy, N.Y.
Most of the teens have been diagnosed with conversion disorder -- a psychological condition that causes physical symptoms like jerky tics, convulsions and even paralysis. But Brockovich suspects groundwater contamination from a chemical spill from more than 40 years ago may be behind the Tourette-like symptoms.
"They have not ruled everything out yet," Brockovich told
USA Today
. "The community asked us to help, and this is what we do."
Don Miller, whose 16-year-old daughter, Katie, still suffers from debilitating tics, said his sister contacted Brockovich for help.
"We're just trying to eliminate everything, and she wants to eliminate that it's the environment," said Miller. "It's a possibility and she wants to either prove it is or it isn't something in the environment."
Brockovich, who famously linked a cluster of cancer cases in California to contaminated drinking water prompting an Oscar-winning movie starring Julia Roberts, said
a derailed train spilled cyanide and trichloroethene within about three miles of Le Roy High School in 1970
. All 15 of the affected teenagers -- 14 girls and one boy -- attended the school when they started showing symptoms last fall.
"When I read reports like this that the New York Department of Health and state agencies were well-aware of the spill and you don't do water testing or vapor extraction tests, you don't have an all-clear," Brockovich told
USA Today
.
An investigation by the New York Department of Health found "no evidence of environmental or infection as the cause of the girls' illness," according to department spokesman Jeffrey Hammond. "The school is served by a public water system. ... An environmental exposure would affect many people."
Doctors also ruled out Pandas -- a neurological disorder linked to streptococcal infections -- and the Guardasil HPV vaccine, which many of the girls did not receive, Hammond said.
The school was tested for volatile organic compounds by an independent company. But "people are free to pursue additional environmental testing," Hammond said.
Twelve of the teens -- all of them girls -- have been diagnosed with conversion disorder in which the emotional response to a stressful situation can manifest itself as physical symptoms. Three new suspected cases are still being examined. Women are more likely to get conversion disorder than men, and teens are at a higher risk than adults. But some parents want a second opinion.
"We don't really agree with it," Miller said of the diagnosis. "Down the road, who knows. But for them to give that diagnosis, they have to rule everything else out. And they haven't done that."
The National Institutes of Health has offered to help solve the puzzle. Dr. Mark Hallett, chief of the NIH Medical Neurology Branch, said the cluster of cases offers a unique research opportunity.
"We have offered our help but have not been asked for yet," said Hallett, adding that he has not yet seen any of the teens. "One of the difficulties in this is that there hasn't been a lot of attention to this problem or very much research into it, which has made it somewhat of a mysterious disorder."
On Saturday, some media outlets joined an environmental activist who the district says illegally went onto Le Roy school property to extract soil samples.
According to 13WHAM.com Brockovich sent a team to town to collect soil samples.
"We felt that the environmental component needed to be investigated further and that's what we're here for, we're not sure we're going to come up with the answers," said Bob Bowcock, an investigator with Erin Brockovich's team. "It was an occurrence, we're not sure if it's a temporary occurrence in the environment or a temporary occurrence from some sort of biological event, we don't know, but don't rule out environmental."
Saturday they collected samples near the site of a chemical spill from a 1970 train derailment.
"Stumbled upon that, not only is this a superfund clean up site but it's one of the worse in the state of New York and all you have to do is look around, it's pretty impressive with the number of monitoring wells the quantity of chemicals discharged," said Bowcock.
That action prompted a response from the Le Roy Central School District through the law firm of Harris Beach that was obtained by Channel 7's Eyewitness News:
"This morning, ( Saturday ) without any prior notice to the District, camera crews from a number of media sources, including both national and local outlets, entered District property for the purpose of filming an unidentified individual taking soil samples.

It is appalling that whatever group or entity employing this individual, as well as the media outlets participating in this effort, chose to conduct themselves in this way - which can only be characterized as grandstanding. Not only was this criminal activity which forced the District to call in local law enforcement to maintain the security of its property, it disrupted the District's preparations for a weekend music event involving students from over twenty-two schools as well as other student activities. No legitimate organization would function in this manner.

As previously indicated, the District is working in conjunction with local and state agencies relative to this matter. Based upon the results from testing already conducted at the District as well as review of other information from multiple sources, environmental factors have not been identified as a cause of the symptoms that have manifested in some students. Testing conducted with rogue samples is of no scientific value, as it is not conducted in accordance with scientific methodologies and safety protocols utilized by reputable environmental experts in all testing situations. In fact, such actions could hamper the coordinated effort already underway by the District in conjunction with environmental, health, and safety experts to address this matter. The District will continue to provide information with respect to these efforts as it becomes available.

Local law enforcement will continue to monitor the security of the District's property."
Channel 7 did not send a crew to enter school grounds illegally on Saturday.
The district issued this statement:
District Statement regarding students with neurological symptoms.

The health and safety of our staff and students is our first priority. The medical and environmental investigations have not uncovered any evidence that would link the neurological symptoms to anything in the environment or of an infectious nature. The affected students are all working with health professionals.

At a community meeting held last week the status of these investigations was reviewed. The following facts were stressed.

The environment or an infection is not the cause of the students' tics.

There are many causes of tic-like symptoms.

Stress can often worsen tic-like symptoms.

These symptoms are real.

All of the affected students have been evaluated and some have already shown signs of improvement. We expect the students will get better in time.

You can view the Air Quality Report and the Mold Report by clicking on the link below. Water was also ruled out because the school is serviced by public water (The Monroe County municipal water system). The results of these reports were discussed at the community meeting. The testing was completed by:

Genesee Valley Educational Partnership
Office of Health-Safety
Management Services
(585)346-4108
A link to the Le Roy Central School District website, which includes their environmental report, can be found on the News Links section of wkbw.com.
Eyewitness News will continue to work with district officials, medical experts, the families of the students, and environmentalists as this story continues to unfold.