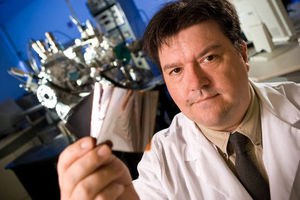 When David Carroll wanted to find a way to make low-cost solar panels, he discovered he needed look no further than his own backyard.
In a weedy part of his Winston-Salem lot, pokeweed grows in wild, red-caned riot. Birds love the purple berries, and soon, so did Carroll. Because with pokeberries, the Wake Forest University scientist believes he's found a key to supplying electricity to parts of the developing world.
One Friday last year, Carroll, director of the Center for Nanotechnology and Molecular Materials at Wake Forest, was meeting with his students, brainstorming ways to get solar power to impoverished communities.
Traditional silicon solar panels are great, they agreed. But to make them, you need costly materials and a high-tech factory.
"We were sitting around thinking about the problem of how do you make it really, really cheap - and you can't get around the fact that (if you do), it's not going to be a very good solar cell. So it has to be very cheap to be worth it," Carroll recalled.
Natural dyes from plants rich in compounds called flavonoids can produce electrical current when sandwiched between the layers of a solar cell, in the spot where silicon would normally go.
Carroll's team set out to find a plant whose dye would work the best - and which could be grown all over the world. The team focused on red or purple plant dyes, since those colors absorb the most photons from sunlight.
Strawberries didn't work. Besides, Carroll said, they wanted "to stay away from things people would eat," focusing instead on a plant that would have multiple uses. Eventually the team tried poke. Pokeweed, whose berries and mature leaves are poisonous, can be eaten if cooked properly when shoots are small, making it a dual-purpose crop that could make sense in the developing world, Carroll said.
"Other people have done similar things, so we're not the only ones who have done this," Carroll said. "But we're the only ones who have (used) very raw and unprocessed stuff."
How unprocessed?
"You pick (the berries) and squish them," Carroll said. "You've got to get the big chunks out. That's pretty easy to do."
The team painted the purple juice on a transparent conductor, a piece of glass or plastic with an aluminum zinc oxide coating. That was sandwiched against a second plate covered with a very thin metal coating with a dilute solution of iodine between and placed in the sun.
Carroll and the students soon saw the results: poke power. They produced their first test pieces last summer.
"A large panel of this stuff, a couple of meters on each side, could produce 5 to 10 watts pretty easily. That's going to charge a battery up pretty fast," Carroll said.
To be sure, that's a very low-power solar panel - creating enough power to run a small light bulb through the night, perhaps.
But that low efficiency is just the point, Carroll said.
"Right now in many places in the world, where you've got a medical facility that's trying to operate at night, they can't - they have to shut down. In order to have a light in a lot of these places, people will walk five to 20 miles to get enough gasoline to power a generator. These panels will provide enough light the same as a generator," he said.
"It's not super-high performance, but it's renewable. What we really wanted to do is find just how basic we could make it and how much power we could get out of it."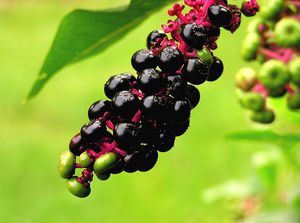 Carroll's team found out just how basic a pokeweed panel can get when they were contacted last year by a sixth-grader in Elizabeth City. Grace Taylor, now 12, was looking for a science fair project. She wondered: Could she make electricity from berry juice?
Carroll passed along what he knew and Grace soon was picking pokeberries in her own backyard. Working in her kitchen, she built a berry-juice solar cell and attached a volt meter. Then she shone a lamp on it to mimic sunlight and watched as her homemade cell produced electricity.
Grade-schooler weighs in
Grace won first place in a local science fair, took second place in regionals and went on to enter her project at the state level. She compared the pokeberry results with those she got from Virginia creeper berries (the creeper won, but its downside, as far as Carroll is concerned, is that it isn't a foodstuff). Grace pronounced the whole experiment "pretty cool."
For Carroll, a sixth-grader's experiment proves he's on the right track.
"You don't need a huge factory to make solar cells out of this," he said. "I think the neat part of this is it's not always about the technology. The technology doesn't work that well. But it changes the microeconomic climate. If your nation can't produce large silicon solar cells, it doesn't matter how good they are."
The pokeberry cells wouldn't be a big money-maker for a corporation and that means a foundation would probably have to back development.
"You're really doing this for the Third World," Carroll said, "and your return on investment is you lower their carbon emission and raise their standard of living."