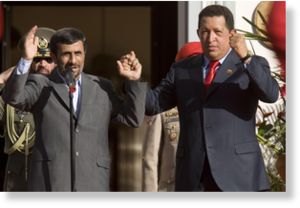 Under pressure at home and facing a fresh wave of economic sanctions, Iranian President Mahmoud Ahmadinejad is seeking the company of friends - in Latin America.
Starting today, Ahmadinejad will be on a four-nation tour that includes U.S. antagonists Venezuela, Nicaragua, Cuba and Ecuador.
The trip comes as the United States and the European Union are increasing economic sanctions on Iran in hopes of forcing it to halt its nuclear program. Iran insists its aims are peaceful, but many fear the regime has military ambitions. The sanctions come as Ahmadinejad's party is facing parliamentary elections - the first vote since the 2009 presidential race that led to bloody protests.
"As responsible nations toughen sanctions on Iran and the regime becomes increasingly isolated, it makes sense that Mahmoud Ahmadinejad would seek a helping hand from fellow dictators and human rights abusers," said Rep. Ileana Ros-Lehtinen, R-Fla., who has dubbed the visit the "Tour of Tyrants."
Iraj Milani, the deputy in charge of the Iranian Embassy in Colombia, said the trip is designed to boost bilateral trade and find new opportunities for Iranian construction companies that have expertise in tunnel and dam building. It comes as Iran's incipient trade in the region is surging, and the country is rolling out new embassies.
"Our government is simply trying to diversify its trading partners and promote more 'South-South' collaboration," he said. And Ahmadinejad is eager to promote regional unity among leaders such as Venezuela's Hugo Chavez and Ecuador's Rafael Correa.
"But the United States is worried about this ongoing integration because it's not in their strategic interests," he said. "And it's taking place in a region that they have always considered their backyard."
The itinerary seems as much about provocation as business, said Stephen Johnson, director of the Americas Program at the Center for Strategic and International Studies in Washington and the author of an upcoming report about Iran's Influence in the region.
"In Latin America, (Iran) is obviously trying to be a thorn in the side of the United States," he said.
Ahmadinejad and Chavez have met almost a dozen times and the nations have announced more than 200 joint projects, including oil field work, residential construction projects and a bicycle factory. Milani admitted that the value of these projects has never been made public, but he estimated them at between $5 billion and $6 billion.