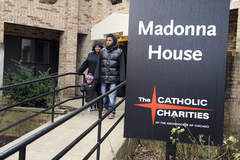 At 15, Jarvis Nelson should be in high school and even thinking about college.
Yet Jarvis is in seventh grade, and doesn't know where he'll go to high school - or even where he will be living - when he graduates from junior high, hopefully next year.
That's because Jarvis has attended three different schools in the past four months. He's lived in three different places on the North and South Sides of the city - including his most recent home, a temporary shelter in Lake View.
Jarvis, like thousands of other students in Chicago Public Schools, is homeless.
He is just one of more than 10,660 students who were homeless at the beginning of the school year. That's 1,466 more than at the same point in the previous school year, according to a CPS tally.
And since the last school year ended with a record 15,580 students with nowhere to call home, the current surge means this school year is on pace to be another record breaker.
While some of the increase is due to better identification of which students are homeless, experts said the problem has gotten worse as the economy tanked and foreclosures skyrocketed.
And even though most economists say that the recession is basically over - there are large swatches of the city that are still feeling the effects of it, said Nicole Amling, director of public policy for the Chicago Alliance to End Homelessness.
"There are families becoming homeless for the first time because they lost their housing," she said. "There are people who have been just getting by for a long time on some part-time job and then that part-time job went away, and so they're now falling into the shelter system, or they're staying with grandma or an aunt. I think it really signifies that we are in dire economic times."
Part of a national problem
Experts said the problem is similar across the state and nation.
More than 57,000 Illinois children were homeless in 2010, up from 30,636 in 2006, according to a December report from The National Center on Family Homelessness.
Nationally, 1.6 million U.S. children lived in homeless shelters, motels, with relatives or other families or living on the street in 2010 - a 38 percent increase since 2007, according to the center.
The large number of homeless students presents a particular challenge to school districts.
In addition to emotional and health problems, homeless students are more likely to go hungry and are four times more likely to show delayed development, the center says. They have twice the rate of learning disabilities as non-homeless children and the vast majority of them lack proficiency in math and reading. At CPS, 98 percent of homeless students are members of minority groups.
The problem is so bad that CPS has special staff who work in the CPS Students in Temporary Living Situations Office.
Students in the program can choose whether to stay in their original school when they lose their housing or enroll in the school closest to their shelter or new housing. They can get transportation assistance, tutoring and free meals, uniforms and school supplies. And the students have advocates who help them navigate the system, officials said.
'I want to stay at this school ... and make friends'
Since November, Jarvis has been living at a Catholic Charities interim family shelter in Lake View - along with his 18-month-old sister Janiyah and their mother, Regenia.
Regenia Nelson was a home healthcare nurse with her own apartment before she got into a fight and spent a year in jail on felony aggravated battery charges in 2005. She's been in and out of low-wage jobs but had difficulty getting steady work because of her record.
"It's hard for me to get a job because of my past," said Nelson, who holds a GED from City Colleges of Chicago and grew up in Stateway Gardens, a since-demolished public housing development in Bronzeville on the South Side.
Unable to afford rent, the family has spent most of the past seven years living with Nelson's mother in a one-bedroom apartment on the South Side. But in September her mother asked them to leave. After that, they spent a month with Nelson's sister, husband and five children but the South Side home proved to be too crowded.
Jarvis' academic problems began while his mom was locked up and he lived with his grandmother. He has repeated both the third and sixth grades because of low reading scores.
But his recent homelessness has only made things worse. So far this school year, Jarvis has been at three different schools, including Songhai Learning Institute, Claremont Academy and most recently, Blaine Elementary School. "It's tiring. I want to stay at this school [Blaine] and finish and make friends," he said.
'Better to be in here than on the streets'
He said it was tough to leave his friends at Songhai Learning Institute and walk away from an afterschool program that taught him to play the trumpet.
At Claremont, which he attended for only a few weeks in October while living at an aunt's house, the work was much harder than he was used to.
It felt like "they were teaching something else," he said.
At Blaine, he is learning to play violin, but he said the curriculum still confuses him.
At the same time, he said he also finds it hard to re-learn some of the concepts he already learned at Songhai.
Making friends is also hard for the soft-spoken, shy teen, and he keeps the fact that he is homeless private. He's only told one student while the two discussed having a sleepover. However, Jarvis can't do one, because shelter rules prohibit a friend from staying over and prohibit him from sleeping somewhere else. Jarvis is also upset that he can't stay up past 9 p.m., even on weekends, because of shelter rules.
He constantly worries about his family abruptly losing the small room they share at the shelter if he were to break the rules, Jarvis said.
"Better to be in here than on the streets," he said, "where there's no place to go."
College? Or a Streets & San job?
Nelson said her son has had problems skipping school and doesn't want to go many mornings, which has contributed to his academic problems.
"You got to get up and get going so you can do better for yourself," she tells him.
While Jarvis is on track to graduate junior high next year and enroll in high school, he hasn't given much thought to what school he will attend.
"It's hard," he said. "What if we move and then I have to rethink?"
His mother, who is starting a job-training program for ex-offenders Tuesday, says she has stressed the importance of getting a college education so he doesn't end up like her - homeless and unable to support a family.
But college is a distant concept for Jarvis, even though he does want to go someday.
For now, he said he hopes to be a bus driver or Streets and Sanitation worker, "and that's about it."