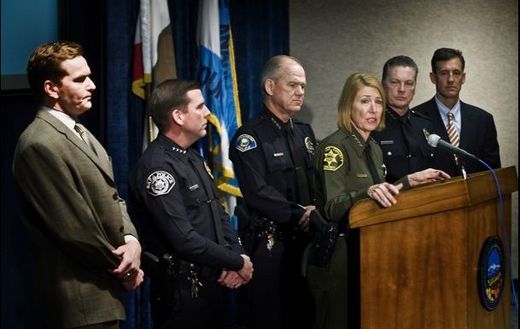 Anaheim, California - Police and advocates on Thursday warned homeless people in Orange County not to sleep alone on the streets because a serial killer has already killed three homeless men.
The Orange County Rescue Mission is handing out flashlights and whistles to the homeless, in an effort to help them protect themselves, said Jim Palmer, the group's president.
Palmer's group is encouraging area homeless to sleep in groups, or better yet, come inside to a shelter.
"Our goal is to get them into those beds and fill those beds," he said.
Darryl Bossier, 49, said he sleeps outside the Orange County administration building in downtown Santa Ana - one of a dozen transients who use the benches that zigzag across the courtyard as a place to rest each night.
"I'm a watchdog. I don't want them to get anybody," Bossier said of the killer, adding he sleeps only about four hours a night. "Who wants to wake up next to somebody dead?"
He said he learned of the killings three days ago but would not go to a shelter because he had his cellphone stolen from his bag the last time he slept there.
"You take a deep breath, but what are you going to do? Watch out for the people who are there."
Authorities have asked for the public's help in finding the killer, as a special task force searches for the suspect with officers from Placentia, Anaheim and Brea, the Orange County Sheriff's Department and the FBI.
An image of a suspect from a video surveillance camera in the area where the first victim was killed shows what appears to be a thin man dressed in a dark hoodie or sweater who appears to be lying in wait for his victim.
The body of the first victim, 53-year-old James McGillivray, was found Dec. 21 near a Placentia shopping mall. The second victim, 42-year-old Lloyd Middaugh, was found on a riverbed trail in Anaheim a week later.
The third victim, 57-year-old Paulus Cornelius Smit, was discovered with fatal stab wounds outside a Yorba Linda library, where a photo of him stood at a small candlelit memorial this week.
Two of the killings took place at night and one in the late afternoon.
No motive has been disclosed, and investigators have found no connection among the victims beyond their homelessness.