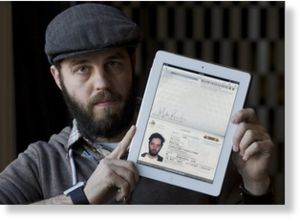 A Canadian man who forgot his passport at home discovered an unusual tool to help him get through U.S. Customs - his iPad.
Martin Reisch says a border officer let him cross into the United States from Quebec after he presented a scanned copy of his passport on the computer tablet and his driver's licence.
Reisch's entrance into the U.S. without a mandatory, hard copy travel document hints how, in some cases, stricter rules at the thickened American border may still have some flexibility in actual practice.
Canadians have had to present more than just a regular driver's licence at U.S. Customs for the last couple of years.
Reisch said he was about a half-an-hour drive from the Vermont border last week when he realized he had forgotten his passport at home.
He quickly remembered that a scanned copy of the document was stored on his iPad, and instead of turning his car around for the two-hour drive home, he decided to give it a shot.
"I figured I'd try, and in the worst case, I would have to go home," he said Tuesday.
Reisch, 33, said he explained his situation to the customs officer, who seemed mildly annoyed when he handed him the iPad.
"He kind of gave me a stare, like neither impressed nor amused," he said of their exchange last Friday in southern Quebec.
The agent took the iPad and the driver's licence into the border office for about five minutes before coming back outside to give Reisch the green light. The officer also wished him happy holidays.
"He was very nice about it," Reisch said.
"I think a good part of it had to do with the fact that it was the holidays and I seem like a nice-enough person."
U.S. Customs and Border Protection says it will accept documentation such as a passport, an enhanced driver's licence or a Nexus pass from Canadian citizens entering at land crossings. The list doesn't mention facsimiles, like scans and photocopies.
A spokeswoman for the department did not immediately respond to questions Tuesday on whether scanned passports are also commonly accepted at U.S. points of entry.
Two people who follow border issues carefully called the case intriguing, but they had different interpretations of what it might mean for Canadian travellers.
Heather Nicol, a border-security expert from Trent University, said Reisch's experience is likely one of many unspoken exceptions carried out at U.S. border crossings.
"There is some wiggle room," said Nicol, a political geographer at the Peterborough, Ont., university.
"What it suggests is that this whole standardization process is a little bit of a shell game because we're told it's not about individuals, it's about data sets. But sometimes the experience is very individual."
Nicol said a customs officer may consider factors such as the credentials of the traveller and how frequently they enter the U.S.
She added that the personality and job experience of the officer as well as the traffic volume at the point of entry may also play roles.
"It's unusual, but I don't think it's unheard of," said Nicol, who hadn't heard of any cases like this one before.
But another observer argued that Reisch's crossing without a mandatory travel document is likely an isolated case.
New Democrat MP Brian Masse, who represents the Ontario border city of Windsor, said he's been working on customs issues for more than a decade and has never heard of anything like it.
Masse noted it's interesting that Reisch had such an easy time crossing while many Canadians still face border hassles under systems like the Nexus program, a special pass designed to speed up the process for its users.
"It runs counter to everything else that we've seen," Masse said.
"I think this guy just got lucky."
He said it also raises troubling security questions because information and photos on scanned passports can easily be altered.
"Basically, any kid in grade school can pretty well do something with it," said Masse, who is open to digital passports as long as their security is assured.
Reisch, who went to Vermont for the day to see friends and snap landscape photos, said he also showed the passport on his iPad to Canadian Customs on the way home although it wasn't necessary.
The Canada Border Services Agency says a passport is only one of several documents accepted at customs for returning Canadian citizens and permanent residents. The border officers will also accept alternatives like a Canadian birth certificate and a citizenship card.
When asked Tuesday about Reisch's case, a spokeswoman for the Canadian border agency declined to comment and suggested the question be directed to U.S. Customs.
Reisch, who said he travels to the U.S. about a dozen times a year, hopes border officials eventually make digital identification an official form of travel document.
"I like the idea of things being catalysts for change," said the freelance photographer and videographer, who noted that many airlines now accept digital boarding passes stored on smartphones.
"It's a recognized form of checking in (on airlines), so I see the future as 100-per-cent being able to cross with your identity on a digital device - it's just a matter of time."