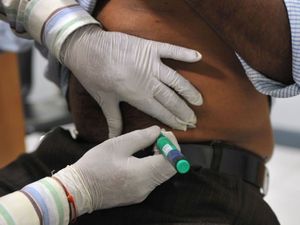 Indian activists have reacted angrily after 12 doctors were fined less than $100 each for conducting secret drug trials on children and patients with learning disabilities.
The Madhya Pradesh state government said the tests had not been cleared by health authorities, and it added that the doctors refused to disclose further details citing patient confidentiality laws.
Anand Rai, a doctor who acted as a whistleblower in the case, told AFP on Tuesday he was angry and frustrated that the scale of the punishment would not deter future illegal trials.
"The Madhya Pradesh government has now slapped a nominal 5,000-rupee ($94) penalty on the 12 government doctors who were involved in the bizarre case," he said. "The penalty was for their failure to inform about the trials."
"All drug trials were performed on patients who had gone to these government hospitals for routine treatment. It's a criminal offense to put them under drug trials without their consent."
Ajay Singh, the leader of opposition in the Madhya Pradesh assembly, described the fine as "ridiculous".
The doctors, two of whom denied any wrongdoing to AFP, are alleged to have been paid by companies to conduct trials on 233 patients over two years in the city of Indore testing drugs to treat sexual dysfunction and other problems.
Human rights groups have raised concern that India has been turning into a hot spot for drug trials, with hospital patients used as guinea pigs for the world's pharmaceutical companies, often without consent.
Low costs, weak laws and inadequate enforcement and penalties are blamed for making India an attractive destination for conducting the tests.
Rai, who was suspended from his job after publicising the Indore cases, believes it will be many years before the malpractice can be curbed.
"Drug trials are increasing here because they cost just one-sixth of what they do in the West," he said.
"The regulatory system here is comparatively corrupt, and pharmaceutical companies can easily register patients and begin trials.
"In developed countries, it would take six months to register five patients, whereas in India in the same time they can conduct trials on 2,000 people."
Faced with mounting criticism, the Indian Council of Medical Research last month sought proposals from doctors and health activists on new draft guidelines for compensation to be paid to people undertaking drug trials.
The guidelines say research participants who suffer physical injury should be entitled to financial or other assistance "to compensate them equitably for any temporary or permanent disability", the
Times of India
newspaper reported.