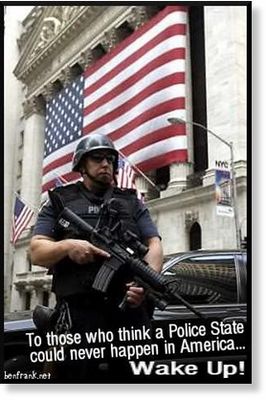 Once again it's time for our annual "Worst Police Misconduct Videos of the Year" reader's poll. Here we post some, but not all, of the over 80 videos associated with claims of police misconduct that we were able to present on our site in 2011. While some of the incidents tied to these videos did not occur in 2011, the videos for those reports weren't released to the public until this year so they are included.
Each video is associated with a number and are listed in no specific order. At the end of the post there is a poll where each visitor may select up to three of the videos that they consider the worst examples of police misconduct caught on video for the year. At the end of the voting period, 11:59pm on Friday, January 6, we will begin tallying the votes and present the five worst videos of the year on the weekend of January 7-8, 2012.
[To take part in the poll visit the Injustice Everywhere site
HERE
.]
If you believe there is a video that we cut from the list that is worse than these, please send us an email through our contact link and we'll add it as a late entry. But remember, it must be a video that was not released to the public before 2011 to qualify. Also, if you wish to change your votes at some point, let us know and we'll see what we can do.
Results from the previous Worst Police Misconduct Video Reader's Polls can be found at the following locations:
Worst Police Misconduct Videos of 2010
and
Worst Police Misconduct Videos of 2009
Be warned, many of these videos are very graphic and should be disturbing to watch, viewer discretion is advised... with that said, here is the list of final candidates:
---
VIDEO 1
Date:
March 2011,
Officers:
Las Vegas NV police officer Derek Colling,
Victim:
Mitchell Crooks,
Status:
Officer fired, lawsuit pending.
In Las Vegas NV, police officer Derek Colling was fired after an investigation into his actions for beating and arresting a man for videotaping police from his own yard. The video of the incident, shown above, was posted by the victim on YouTube.
Latest Update:
Vegas officer fired after beating incident taped
---
VIDEO 2
Date:
September 2010 (released Nov/Dec 2010),
Officers:
Approx 6 Weber-Morgan UT Narcotics Strike Force officers,
Victim:
Todd Blair,
Status:
Lawsuit pending, IA ruled shooting justified.
This controversial and disturbing video of a no-knock raid performed by the Weber-Morgan Narcotics Strike Force in Utah appears to show a raid that went wrong and didn't conform to standard planning practices. The multi-agency task force decided to rush into performing a raid on a home they suspected had housed a meth dealer in September of 2009. However, the raid only turned up a small amount of marijuana by one account or a small amount of an unidentified substance according to a different report. Needless to say, it appears as though their target wasn't a dealer but, at most, an addict who died with $4.00 in his possession. The fatal shooting occurs very quickly after officers burst through the door, about 1 second after they spotted the victim holding a golf club at least 15 feet away. The report claimed the victim was approaching officers menacingly but, as the video shows, he was stationary at the time and appeared to have just woken up.
Latest Update:
Family planning lawsuit to prevent repeat of drug raid shooting death
---
VIDEO 3
Date:
March 2011,
Officers:
6 Birmingham AL police officers,
Victim:
Travarious Daniel,
Status:
Lawsuit pending against 2 officers, 6 officers suspended with pay pending investigation.
2 Birmingham AL police officers are the subject of a lawsuit by a man shown on surveillance video with his arms raised before being tacked then repeatedly beaten by several officers who stopped him on suspicion of theft. The police report only indicated that "minimum force" was required to make the arrest.
Latest Update:
Federal lawsuit filed over latest videotaped incident involving Birmingham police
---
VIDEO 4
Date:
July 2011,
Officers:
6 Fullerton CA police officers,
Victim:
Kelly Thomas,
Status:
Police chief on extended sick leave, 2 officers charged with murder/manslaughter, lawsuit vs Fullerton PD, lawsuit vs Orange Co DA, and recall effort against several public officials.
6 Fullerton CA police officers can be heard on this video, but not seen, beating Kelly Thomas as Thomas heartrendingly cries out in pain for his father in an encounter, stemming from a questionable car prowling call, that ultimately led to Kelly Thomas's death from numerous injuries. After a lengthy investigation 2 of the officers were charged with murder/manslaughter and excessive force over the incident. Other videos from surveillance cameras exist but are being kept secret as were a lot of details, which led to recall efforts against public officials who defended the police and tried to whitewash the incident prior to the criminal charges being filed. The incident also led to a flood of other misconduct reports involving that city's police department being brought out and other legal cases as well.
Latest Update:
Kelly Thomas' mom sues D.A. for records in homeless son's death
---
VIDEO 5
Date:
January 2011,
Officer:
Kelowna BC RCMP Constable Geoff Mantler,
Victim:
Buddy Tavares,
Status:
Officer charged with assault, lawsuit pending.
An RCMP officer in Kelowna BC was charged with 2 counts of assault over this videotaped excessive force incident and another unrelated incident not caught on camera before this one. Here the officer, responding to a call about shots fired on a golf course where the victim used to work which involved chasing off geese, stopped him, ordered him to kneel, then kicked him in the head while he knelt on the ground. The victim was recovering from head trauma suffered from a motorcycle crash that happened before the incident.
Latest Update:
Kelowna kicking cop trial to focus on officer's beliefs: lawyer
---
VIDEO 6
Date:
March 2011,
Officer:
San Juan County NM deputy Dale Frazier,
Victim:
Donovan Tanner,
Status:
officer fired and subject of federal investigation, lawsuit quickly settled for $250,000.
A San Juan County NM deputy shown on dashcam video repeatedly beating a Native American man in the head with a flashlight while responding to reports of a bar brawl and seeing Tanner walking away from that area. The deputy claimed the beating was an attempt to stop Tanner from trying to take his flashlight but this was obviously contradicted by the video, resulting in the deputy being fired and a quick $250k settlement made to Tanner the same month that he filed suit.
Latest Update:
FBI Looking at Beating Incident Involving Former San Juan County Deputy
---
VIDEO 7
Date:
November 2011,
Officer(s)
: UC Davis CA police Lieutenant Pike and one other unidentified officer,
Victims:
at least 16 "OWS" protesters,
Status:
UC Davis police chief & two officers suspended pending investigation, civil rights lawsuit pending.
In a video that went viral and sparked an international meme, UC Davis CA police lieutenant is caught on video taunting a crowd of protesters by showing off a pepperspray canister before slowly and deliberately dousing seated protesters with it. The police chief justified it by claiming the officers were afraid of the crowd but the video appears to really contradict that claim. While this video is being pulled from various locations thanks to a copyright claim from a "Thomas Fowler" we hope this one stays up at least long enough for the voting to finish.
Latest Update:
University Officials, Legislators Call for Clearer Police Procedures During Protests in Berkeley and Elsewhere
---
VIDEO 8
Date:
December 2011,
Officers:
Approx 6 Maricopa County AZ deputies & approx 4 Phoenix AZ police officers,
Victim:
Ernest Atencio,
Status:
Under Investigation
Several Phoenix AZ police officers and Maricopa County AZ deputies are seen in surveillance video taking down a detainee who didn't appear to be presenting any visible threat then choking and tasering him repeatedly before dragging him into a "safe cell" where they stripped him naked and left him for several minutes. When they checked on him again he was unresponsive and not breathing. He died several days later when he was taken off life support while brain dead. While the Phoenix PD insisted their role in the incident was minimal, the video appears to contradict them.
Latest Update:
Law Enforcer Mike Stauffer reacts to death of Ernest M. Atencio death
---
VIDEO 9
Date:
October 2011,
Officers:
Unspecified/Unknown
Victim:
Scott Olsen,
Status:
Under Investigation
Officer(s) from unspecified agencies, likely Oakland CA police officers and/or Alameda County CA deputies, open fire with rubber bullets, tear gas, and flash-bang projectiles on Occupy Oakland protesters, at least two of which suffered head injuries including one veteran from the Iraq war, Scott Olsen, who was critically injured after hit in the head with an unspecified projectile fired by officers. Police did not attempt to assist him, instead they threw a flash-bang grenade into the middle of a group of people who came to assist him, sending them scattering until a second group arrived to carry him away. He is currently in rehab and has made very good progress after temporarily losing the ability to speak from the injury. Police, in the meantime, have formed a committee of several former cops to look into the incident, of which they still refuse to identify what officers from which agencies were involved.
Latest Update:
Scott Olsen, U.S. Vet Wounded at Occupy Oakland, on Recovery, Protests, Iraq and Bradley Manning
---
VIDEO 10
Date:
June 2010 (released July 2011),
Officer:
Ferndale MI police officer Lowell Phillips,
Victim:
Laszlo Latitis,
Status:
Lawsuit pending, officer fired for other incidents.
Ferndale MI police were sued by the wife of an unarmed man fatally shot by a Ferndale MI cop on dashcam during a car chase. While the officer was cleared by claiming self defense, the video shows nobody was in the path of the man's car as he tried to back away from police when he was shot. The incident began when Laszlo attempted to flee a traffic stop when the officer pulled a gun upon seeing a small bag of marijuana, which was pretty much the only thing of interest found in the car. The officer was fired, but police say it was for other issues.
Latest Update:
Dash Cam Video at Center of Lawsuit over Fatal Police Shooting of Laszlo Latitis
---
VIDEO 11
Date:
November 2011,
Officers:
Oakland CA police officer and police captain,
Victim:
Scott Campbell,
Status:
Officer and his captain both reassigned while under investigation
An Oakland CA police officer was shown on video shooting a protester by what police claim was a beanbag round as he was filming a police line and repeatedly asking if he was at a reasonable distance away while doing so. The department never gave a justification for the act but have reassigned the officer for firing on him and his commanding officer for giving the order to do so while both are under investigation.
Latest Update:
Oakland officers reassigned pending beanbag probe
---
VIDEO 12
Date:
March 2010 (video leaked February 2011),
Officers:
9 Houston TX police officers,
Victim:
Chad Holley,
Status:
4 of 9 officers involved were fired and charged with official oppression and/or civil rights violations.
This video that almost never made it to the light of day shows several Houston TX cops piling up on a 15-year-old burglary suspect after he was clipped by a police car and appeared to surrender. The officers then proceed to take turns repeatedly punching, kicking and kneeing the young teen for a span of minutes as he laid on the ground before taking him away. The mayor and police bitterly fought to keep this video from being released and complained fiercely that the person who leaked it should have been arrested.
Latest Update:
Judge: No venue change in HPD beating case
---
VIDEO 13
Date:
May 2011,
Officers:
Durham NC police SWAT team,
Victim:
Sheba the black labrador retriever,
Status:
Never investigated, no actions taken.
Durham NC swat team captured on video shooting a black lab to death as they enter a home to check for occupants after arresting the targets of their raid. While police claim the dog was being aggressive, the video appears to contradict that claim. No officers were investigated or disciplined.
Latest Update:
Police decision to shoot dog questioned
---
VIDEO 14
Date:
January 2011,
Officers:
Dallas TX police officer Quaitemes Williams,
Victim:
Rodarick Lyles,
Status:
Officer fired and charged with Official Oppression and assault, lawsuit pending.
A Dallas TX police officer was fired and arrested on assault and official oppression charges for kicking, punching, macing and beating a man with a flashlight on dashcam video during a traffic stop. Fellow officers reported him and said he was so out of control and angry that they had to intervene to stop the beating.
Latest Update:
Excessive Force Victim Lawsuit
---
VIDEO 15
Date:
May 2010 (released February 2011),
Officer:
Toronto Ontario police constable Christopher Hominuk,
Victim(s):
Robert James Bolgan and Roger William Bradshaw,
Status:
Officer sentenced to Conditional Discharge (charges dismissed after 4 month probation) after pleading guilty to threatening bodily harm charge.
A Toronto ON police officer received the equivalent to a suspended sentence after pleading guilty to threatening bodily harm charges for slapping a handcuffed detainee then threatening to taser his testicles if he didn't tell him where a suspect was. Then threatening to taser another man's testicles while holding a taser to his neck if he didn't answer the same question. He got the lenient sentence that will not go on his record by blaming his behavior on having low blood sugar that day. While he was supposedly the subject of an internal review, we can only assume he's still an officer since there was never any word of any disciplinary action taken against him.
Latest Update:
Cop who threated to Taser suspects avoids jail
---
VIDEO 16
Date:
January 2011,
Officers:
Saint Louis MO police officer Dustin Ries and police sergeant Antonio Triplett
Victim:
William Ginger,
Status:
officer exonerated by internal investigation, police sergeant retires while under investigation for ordering officer not to file report.
A YouTube video in Saint Louis MO showing an off-duty officer working a security job beating a man several times with a metal ASP baton then pepperspraying him sparked an investigation that cleared the officer,the subject of two excessive force lawsuits in the past, but forced his sergeant to retired on allegations that he ordered that officer to let the man go without charges and to not file a report about what happened.
Latest Update:
St. Louis sergeant who ordered man released after beating retires
---
VIDEO 17
Date:
February 2011,
Officers:
Albuquerque NM police officer John Doyle and police officer Robert Woolever,
Victim:
Nicholas Blume,
Status:
Both officers fired after investigation and may still face criminal charges.
2 Albuquerque NM cops were fired after this video showed them beating and kicking a man at least a dozen times in the head while holding him down. The officers then appeared to do a celebratory chest bump afterward.
Latest Update:
Video shows Albuquerque officer kicking suspect; 2 officers fired
---
VIDEO(s) 18
Date:
September 2011,
Officer:
New York NY police deputy inspector Anthony (Tony) Bologna,
Victims:
At least 4 female and one male OWS protesters,
Status:
Officer docked 10 vacation days and transferred to Staten Island, which is closer to his home, as discipline for violating policy.
In these two videos from the same day at an Occupy Wall Street protest march, NYPD Deputy Inspector Tony Bologna can be seen indiscriminately pepperspraying at least 4 women before he moves on down the street and peppersprays another group of people who were videotaping him. After initially insisting that the use of pepperspray was justified without any investigation, the NYPD backtracked and finally admitted the officer violated policy and, for that, they rewarded him with more work with a shorter commute. At least two of the girls who were needlessly peppersprayed tried to pursue charges against him but there's been no word on how that has gone so far.
Latest Update:
Anthony Bologna, Pepper-Spray Cop, Exiled to Staten Island
---
VIDEO 19
Date:
August 2011,
Officers:
Sioux City IA police officer Joshua Tyler and a second unidentified officer,
Victim:
Dacosta Daniels,
Status:
Officers exonerated by chief, victim pursuing legal action.
This video shows an uncooperative woman being punched and choked by a plainclothes officer after they detained her for talking on her cellphone while they investigated a man she was with for having a suspended license, even though the car they were in was parked on the side of a road. Police insist everything was justified, including her being arrested for nothing more than talking on a cellphone.
Latest Update:
Chief: Arrest didn't break rules
---
VIDEO 20
Date:
November 2011,
Officers:
At least 7 UC Berkeley CA police officers and possibly Alameda Co CA deputies,
Victims:
Several male and female students participating in OWS protest against rate hikes.
Status:
20 students announced a planned lawsuit against police and college officials for the use of force against non-violent students after the university declared the act justified.
This video from the Berkeley campus of the University of California shows officers in riot gear beating a large group of students during an OWS protest against persistent tuition hikes. College officials and police insist the actions were justified.
Latest Update:
UC Berkeley Students To File Lawsuit Against University, Police
* * *

Which (3) videos do you think were the worst videos of police misconduct in 2011?
[To take part in the poll visit the Injustice Everywhere site
HERE
.]