The US police have arrested over 5,000 people attending anti-corporatism protests across the country over the past three months, a report says.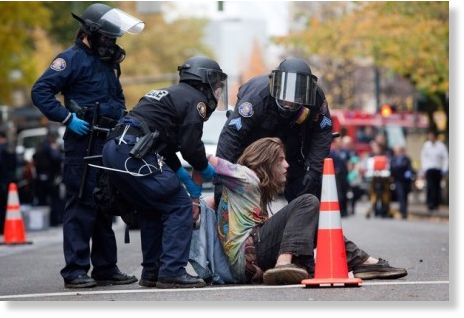 There have been 5,425 arrests during Occupy protests in 94 cities across the United States up to December 12, according to St. Pete for Peace, an Occupy-affiliated group from St. Petersburg, Florida.
The group says it only tracks 'confirmed arrests.'
It says its list represents "a running total of the number of Occupy protesters arrested around the US since the Occupy Wall Street movement began [in September]."
The highest number of arrests belonged to Los Angeles, New York City, Tucson, and Chicago, the American news website
The Daily Caller
reported on Tuesday.
The occupy movements owe their inspiration to the Occupy Wall Street (OWS), which began, when a group of demonstrators gathered in New York's financial district on September 17. The protesters rallied, among other things, against the excessive influence of big corporations on the US policies as well as high-level corruption and unjust distribution of wealth in the country.
Over the past few weeks, the police broke up Occupy encampments in cities and towns across the US, harshly attacking and arresting dozens of protesters.
Despite the police crackdown and the mass arrests, the Occupy movement has now spread to many major US cities.