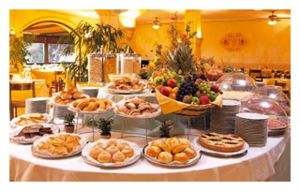 In what may be described as the least inspired act of urban foraging or a depressing manifestation of our country's current economic crisis, hungry people are
heading to the hotel buffet
-- not from their guest rooms, but from off the street. It's happening so often at a Hampton Inn location in Miami, Florida that the front desk staff is being forced patrol the breakfast bar, looking for freeloaders sidling up for bagels and cream cheese alongside paying customers.
While there isn't a written rule for how this particular hotel franchise takes a bite out of the crime, front desk clerk Alfonso Tobenas opts to let the riff raff slide on the first offense. It's not until they go back for seconds and thirds that the suspects are asked for their room number.
"It is what it is, bro, times are tough and they're hungry," Tobenas says. "They're just trying to beat the system and save a buck. The first time you're going to get away with it, the second and third time I'm going to ask you to leave."
Continental hotel breakfast thievery may be much less bang for your proverbial buck than crashing, say, a wedding. But on the plus side, it also saves you the tuxedo rental fee.
However, it's precisely the freeloaders' casual manner of dress -- along with their local accents -- that's giving them away. The way New Yorkers can spot tourists a mile away, so apparently can Tobenas suss out the locals from his vacationing clientele. He even begins to recognize many as regulars on rotation from other area hotel buffets.
So, who are these gastronomical guerillas and why do they do it?
"Ok, I admit it - I've crashed a hotel buffet,"
confesses
a blogger at a site called Travergence. "Not just a Best Western orange juice and granola buffet either, this was a Fairmont buffet. It had dozens of items, a carving station, at least six desserts, and amazing napkins."
It's nice that, even in a woeful economy which forces the desperate to crash free breakfast buffets, attention is still being paid to the napkins.
But this buffet crasher actually did attempt to pay for the meal, only to be informed it was a conference luncheon for Bioval Pharmaceuticals. Apparently the dining room's ample signage of the Bioval-sponsored private event was befogged by the steaming roast beef chafer.
Of course, the traditional dine-and-dash is always in vogue. Just ask the two "dim bulbs" who
ran out on their bill
at an Outback Steakhouse in San Mateo, California last week -- after leaving a cell phone, jacket and identifying paperwork behind at their booth.
They'll soon discover that a "Bloomin' Onion" means something completely different in prison.