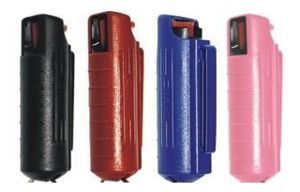 Walmart and Black Friday -- these two things just don't go together safely, do they? Two years ago, an employee at the retailer's upstate New York location was
trampled to death
by aggressive shoppers looking to be the first to grab Black Friday deals.
This year, at a Walmart in southern California, one overzealous shopper found a way to prevent others from getting on their hands on the merchandise she wanted. By pepper-spraying them.
The
Los Angeles Times reported
that the woman, who is still at large, was "competitive shopping" and pepper sprayed bargain hunters once the doors of the Walmart opened at 10pm yesterday. Matthew Lopez, 18, was one of the unlucky shoppers who was hit with the pepper spray.
"I heard screaming and I heard yelling," said Lopez, 18. "Moments later, my throat stung. I was coughing really bad and watering up."
According to officials, 20 people suffered injuries from the attack, another of whom was 24 year-old Alejandra Seminario.
"People started screaming, pulling and pushing each other, and then the whole area filled up with pepper spray," the Sylmar resident said. "I guess what triggered it was people started pulling the plastic off the pallets and then shoving and bombarding the display of games. It started with people pushing and screaming because they were getting shoved onto the boxes."

"After we paid, we saw five that were in really bad shape," she said. "They had been sprayed in the face, it looked like, and they had swelling of the face, really extreme swelling of face, redness, coughing."
If you're despairing for humanity when reading of such barbaric behavior, you'll be glad to know that such anti-social acts are in fact biological. In a
New Yorker article
discussing large crowds, John Seabrook spoke to Ian Couzin, a behavioral biologist at Princeton University, who explained that the ugly behavior that tends to occur in massive crowds, as seen at Black Friday sales at Walmart, Target, Best Buy and others, can be attributed to the way humans have evolved.
"With ants, as with human crowds, you see emergent behavior. By using a simple set of local interactions, ants form complex patterns. The difference is that we are selfish individuals, whereas ants are profoundly social creatures. We want to reduce our travel time, even when it is at the expense of others, whereas ants work for the whole colony. In this respect, we are at our most primitive in crowds. We have never evolved a collective intelligence to function in large crowds - we have no way of getting beyond the purely local rules of interaction, as ants can."
The moral of the story? Stick to online shopping, folks.